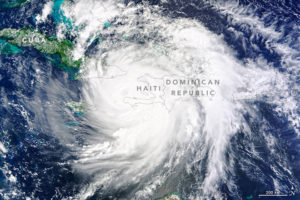 Intelsat and Intelsat General are both playing significant roles to support hurricane relief work in Haiti in the aftermath of Hurricane Matthew. The hurricane passed directly over the southwestern peninsula of the Caribbean nation on October 4, killing more than 1,000 people, destroying thousands of homes, and leaving an estimated 1.4 million Haitians in urgent need of humanitarian aid, according to the United Nations. Intelsat is donating
SATCOM capacity to the American Red Cross
to support relief operations. Intelsat is providing a VSAT connection for the Red Cross center for 90 days using Ku-band capacity from Intelsat 29e, the first satellite in the Intelsat Epic
NG
platform. This high-performance, high-efficiency satellite, located at 310° East, uses the latest in HTS technology to enable the fast and efficient roll-out of broadband connectivity. The hurricane response is the first use of the EpicNG platform for disaster recovery and humanitarian relief. Intelsat General is providing satellite connectivity to By Light Professional IT Services Inc. to support hurricane relief in Haiti carried out by U.S. government agencies. By Light will use Ku-band capacity on Intelsat's Galaxy 18 satellite to support bring first-responder communications. By Light, based in Arlington, VA, provides hardware and software engineering services to defense, civil, and commercial customers worldwide.
"As we know too well, the resiliency of satellite communications is never more front and center than when natural disasters such as hurricanes destroy a community's infrastructure," said Skot Butler, President of Intelsat General Corporation. "The support of By Light to government relief organizations is critical for the first responders working to provide help to Haitians in the aftermath of the terrible hurricane."
Satellites play a vital role in providing communications and other services following natural disasters. When hurricanes destroy terrestrial communications, satellites are often the only way to communicate, track critical assets and access post-disaster imagery.
"
Because of an unparalleled level of reliability and ubiquity, many satellite companies already have long-standing relationships with a number of government organization in the United States and around the globe," said Tom Stroup, president of the Satellite Industry Association. "These relationships help to ensure that first responders and relief workers have access to vital communications and information wherever they are needed. Disaster victims whose lives have been turned upside down may never realize how important satellite connectivity is to relief efforts. But when disaster strikes, a communications network is always standing by — 22,236 miles away in geosynchronous orbit.
Related Posts