Equip armed forces and global emergency management teams with the speed and reliability needed for communications and mission success where and when it's needed most.
Whether you are a government agency, a global government organization or a non-profit, Intelsat can help you connect your assets on the ground with Command, Control, Communications, Computers, and Cyber systems, and Intelligence, Surveillance and Reconnaissance (C5ISR) applications.
Intelsat provides secure and reliable video, data, imagery, and voice services for in-theater operations to enable up-to-the-minute information transfer. This offers expeditionary forces and humanitarian aid providers immediate access to reliable communications linking advance teams to information and services essential for this mission.
Global Broadband Connectivity Using Small Antennas
Forces and teams on the ground often rely on push-to-talk radios or low-bandwidth satellite communications, which do not satisfy the need for high-quality, high data rate bandwidth for simultaneous data, voice, and video communications to the tactical edge.
Governments | NGOs Land Products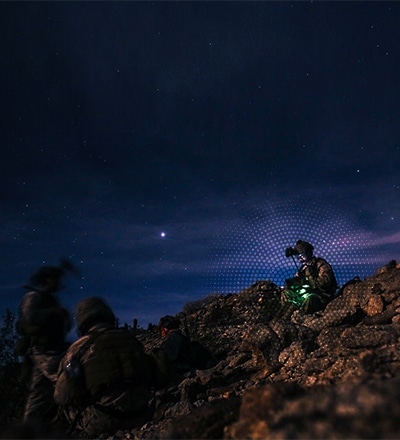 Government
FlexMove Government
Not Sure Where to Start?
Tell us more about your connectivity needs and our experts will find a solution that serves your organization.