A Consolidated Intelsat and OneWeb – An Industry Leader in Space
March 03, 2017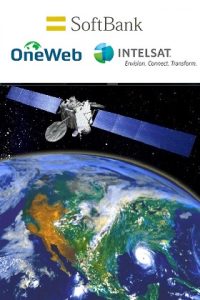 Earlier this week, our parent company Intelsat announced a merger with OneWeb that will transform the satellite industry. The companies announced an agreement in which Intelsat and OneWeb will merge in a share-for-share transaction, with Japan's SoftBank Group agreeing to invest $1.7 billion in the combined company.
This agreement has the potential of creating a space industry leader in both geosynchronous earth orbit (GEO) and low earth orbit (LEO). The new combined company will be unique in its ability to provide affordable broadband anywhere in the world. Intelsat was an early equity investor in OneWeb, recognizing the inherent advantage of a new network that could complement Intelsat's next-generation Intelsat EpicNG high-throughput satellite fleet.
By merging OneWeb's LEO satellite constellation and innovative technology with Intelsat's global scale, terrestrial infrastructure and GEO satellite network, the new company will create advanced solutions that address the need for ubiquitous broadband. The transaction, and SoftBank's investment, will significantly strengthen Intelsat's capital structure and accelerate the ability to unlock new applications, such as connected vehicles, as well as advanced services for existing customers. And Intelsat General will leverage this innovation and these new applications for the government sector.
"Together, we will be better positioned to deliver services for government applications via the new, combined GEO/LEO capabilities," said Rick Henry, Director of Sales & Marketing at IGC. "We'll be able to increase throughput and reduce latencies for ISR, UAS and Land Mobile missions via a global, hybrid network. And we can support real-time situational awareness with high performance comms-on-the-move applications."
Once OneWeb's LEO satellites are launched in 2019 and linked to Intelsat's constellation, the combined fleet will offer a truly global and affordable networking solution for mobile and fixed customers. Intelsat's fully integrated Ku-band infrastructure, coupled with the combined company's managed services, has the potential to support the development of an entirely new and extensive set of mass-market applications. Government customers will have access to advanced fixed and mobile services in support of civilian applications, as well as assured communications for first response and emergency services and secured military requirements.
The transaction is expected to close late in the third quarter of 2017. As a wholly owned subsidiary of Intelsat, IGC's day-to-day operations won't be affected. The main benefit will be an acceleration of the ongoing technological enhancements, especially relating to Intelsat EpicNG satellites and smaller-form-factor antennas. This merger will accelerate the ability of the U.S. government to leverage existing commercial capabilities, test and evolve new technologies, and enable more rapid transition from prototypes into operational systems.
Boosted by the merger of Intelsat and OneWeb, IGC will become a one-stop, GEO and LEO source of new and innovative capabilities to help governments keep pace in an increasingly contested space environment.