Supporting COTM and COTP operations.
With FlexMove Government, Intelsat delivers on-demand global, high-throughput satellite (HTS) connectivity services powering secure and reliable video, data, imagery, and voice services for in-theater operations.

Intelsat's unrivaled, fully managed satellite communications network connects assets on the ground with Command, Control, Communications, Computers, and Cyber systems, and Intelligence, Surveillance, and Reconnaissance (C5ISR) applications, enabling up-to-the-minute information transfer that leads to better decisions that save lives. Users can quickly and easily control, provision, and monitor network connections anywhere around the world and connect people and missions wherever they might be without complexity.

From military forces to disaster response teams, high throughput broadband connectivity is critical to their ability to make informed decisions and deliver services at a moment's notice.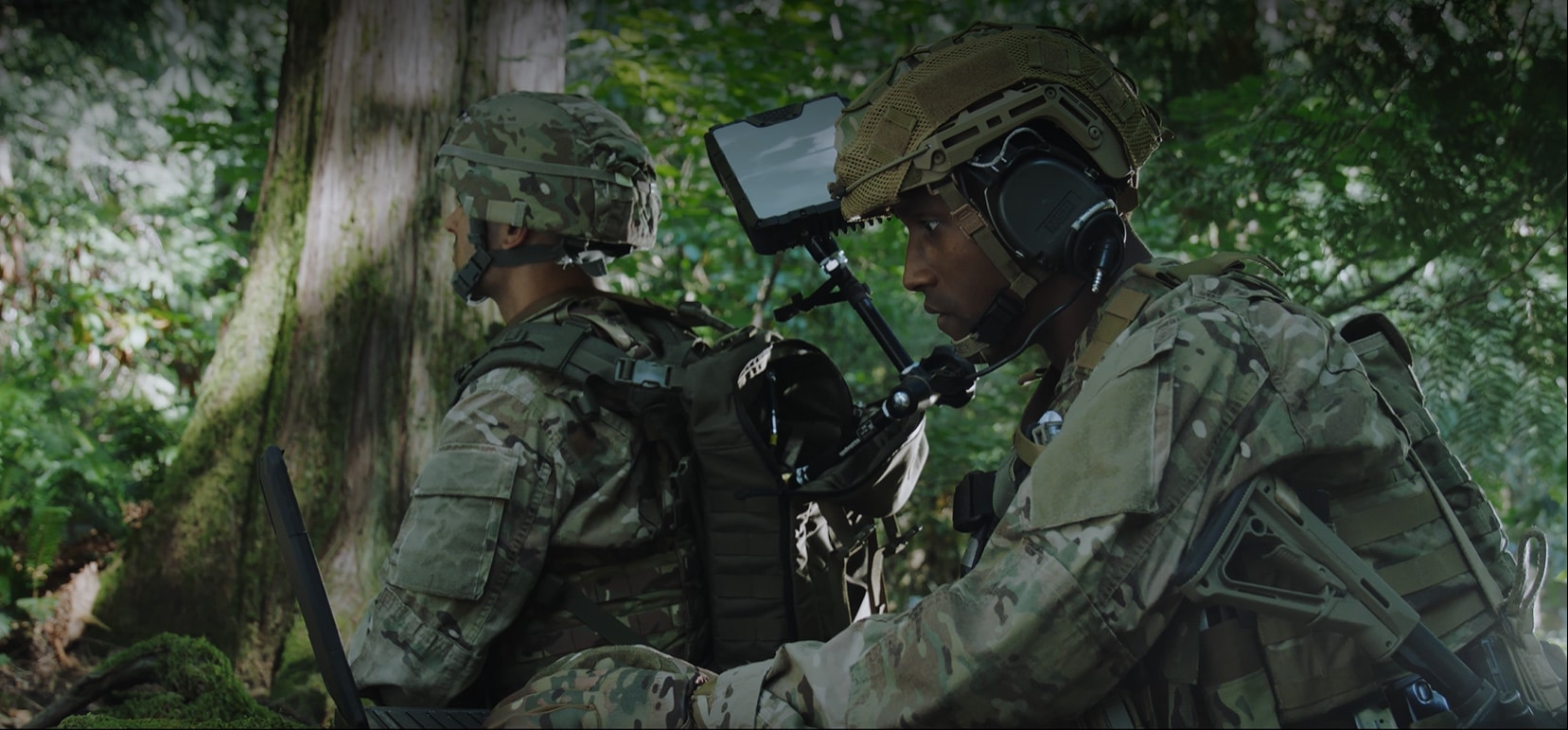 Fast, Reliable, Secure Intelligence on the Ground with FlexMove Government
Enabling Global Rapid Response
Intelsat FlexMove Government is a communications game changer enabling rapid response to contingencies worldwide, from Humanitarian Assistance Disaster Relief (HADR) to combat operations. An end-to-end managed service, FlexMove Government takes the guesswork out of determining whether bandwidth will be available, leaving teams free to work on mission-critical tasks.

Accessible via compact and easy-to-use terminals, FlexMove leverages Intelsat's Ku-band satellite network covering 90% of the world's population, providing users with communications-on-the-move (COTM), communications-on-the-pause (COTP), and Manpack communications essential for enhancing situational awareness, multi-domain theater access, operational theater backhaul, and Command, Control, Computers, Communications, Cyber, ISR (C5ISR). FlexMove connectivity gives expeditionary forces and humanitarian aid providers immediate access to reliable communications, links to advance teams, and information-sharing capabilities essential for mission success.

FlexMove offers flexible, pay-as-you-go service plans combined with global availability enabling users to access connectivity rapidly and cost-efficiently around the world.
FlexMove Government Features:
Performance
Antennas
Subscription Plans
Security
96Mbps to Small Laptop-Size Terminals
Intelsat partners with Ovzon to provide end-to-end high-bandwidth communications to small mobile platforms, both on-the-move and on-the-pause. The service combines the mobility and flexibility found in ultra-small satellite user terminals with the throughput of wide band satellite communication services. By combining Ovzon's unique service with Intelsat Epic, our global, high-throughput platform, Intelsat will enable speeds on laptop-sized terminals to reach up to 96Mbps.
FlexMove Government Terminals
Tried and tested terminals that deliver the performance you expect.
Service Delivery Done Right
Our easy-to-use Service Management Portal enables customers to provision and monitor activity in real time. Establish connectivity in under one minute.
Not Sure Where to Start?
Tell us more about your connectivity needs and our experts will find a solution that serves your organization.