A New Class of Protected Satellite Communications
May 13, 2015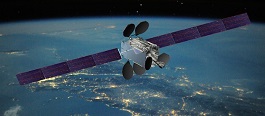 A new category of space-based protected tactical communications passed an important test last month. Intelsat General participated in tests led by the U.S. Air Force that validated the protected tactical waveform (PTW) modem performance over the upcoming high-throughput satellite (HTS) Intelsat EpicNG platform.
PTW will provide cost effective, protected communications over both government and commercial satellites in multiple frequency bands – C-, Ku-, Ka- and X-band. Combined with new HTS advances expected in the first quarter of 2016, PTW will deliver broader protection, more resiliency, more throughput and more efficient utilization of satellite bandwidth.
IGC is working directly with several modem manufacturers to identify and test a variety of new modems under development in the industry. IGC's employs a multi-layered approach to provide more secure satellite communications, with both space and terrestrial elements. PTW is an important component of this multi-layer security approach and will offer customers the best and most resilient SATCOM available from the commercial industry. Eventually PTW is expected to complement complex military protection capabilities already on orbit at a fraction of the cost.
Some of the space-based protection features of PTW over the EpicNG platform include built in interference mitigation capabilities and smaller spot beams. IGC also plans to utilize PTW over steerable Ku spot beams as another commercial protected capability. Security measures employed by IGC in the terrestrial segment include end-to-end protection, from physical security at teleports to a hardened network infrastructure with systems that are compliant with DoD Directive 8500 and NIST cybersecurity recommendations and audited by third party evaluators for compliance.
In March 2014, IGC engineers teamed with L-3 Communications Systems West (L-3 CSW) and successfully tested L-3 CSW's new modem, which was designed around the U.S. Air Force's PTW specification. The test, which was conducted using an Intelsat satellite emulator and on orbit satellite, measured the modem and PTW performance against various interference and jamming tactics and waveforms. The success of this test led directly to the more advanced demonstration last month.
Space is an increasingly competitive theater of operations. The development of a more secure and efficient waveform has important ramifications for both commercial and military users. Combined with performance and efficiency gains of upcoming HTS systems, this new category of protected satellite communications will be a game changer in the space market.