Intelsat and MaxIQ Space Complete Another Year of STEM-Ed in Africa
July 31, 2023
30 students from across Africa competed in the program
MCLEAN, Va. – Intelsat, operator of one of the world's largest integrated satellite and terrestrial networks and leading provider of inflight connectivity (IFC) and MaxIQ Space, a pioneer in space-focused STEM education have now completed this year's STEM Space program with student project presentations and an awards ceremony.
The innovative program, sponsored by Intelsat, has made major strides in inspiring and empowering these young participants, who are poised to be the future innovators and industry leaders of the African space sector.
This year, 30 students were chosen for the program from all over the African continent. The education provided is something students say will provide them an advantage towards achieving an advanced education.
"Through the space STEM program and MaxIQ, I've learned that boundaries are meant to be broken. We're redefining what's possible for African students in the field of space science," said Alabi Emmanuel Aniyikaye, student participant from Nigeria.
"Attending space science workshops and working with MaxIQ has shown me that Africa has immense potential in the space industry. We're the next generation of African space pioneers," said Isingizwe Lucide Pascale, student participant from Rwanda.
Each participant received a MaxIQ modular electronics Space STEM kit, comprised of immersive, hands-on learning and experimentation in various areas related to Space and Earth Sciences. The kits, paired with virtual workshops explored topics like understanding Earth in the context of our solar system to planning for life in Lunar or Martian habitats, provides a comprehensive view of the intricate interconnectivity between Earth and space.
This year's winners include: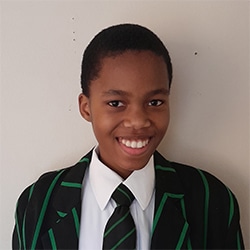 Best Unboxing Video – Natalie Mubvuta (South Africa)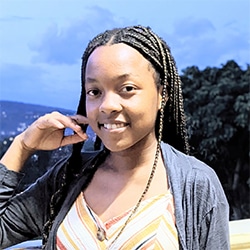 Highest Average Assignment Grade – Isingizwe Lucide Pascale (Rwanda)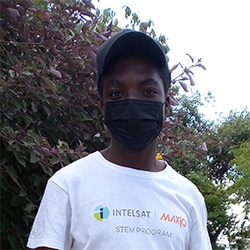 Most responsive – Isingizwe Lucide Pascale (Rwanda) and Munotidaishe Taruvinga (Zimbabwe, pictured)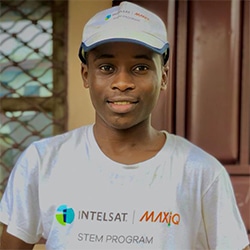 Most Punctual and Engaged – Ofumgbe Ernest Arrah Ayuk (Cameroon)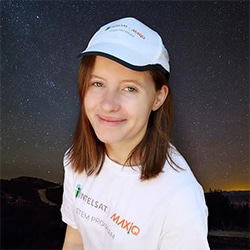 Best mega-assignment – Eileen Vermeulen (South Africa)
Top group presentation – SDG 11 – Sustainable Cities and Communities (South Africa)
Winners will be eligible for the next round of MaxIQ education. Applications for Intelsat MaxIQ's 2024 session will be open to submission in late 2023.
About Intelsat
Intelsat's global team of professionals is focused on providing seamless and secure, satellite-based communications to government, NGO and commercial customers through the company's next-generation worldwide network and managed services. Bridging the digital divide by operating one of the world's largest and most advanced satellite fleet and connectivity infrastructures, Intelsat enables people and their tools to speak over oceans, see across continents and listen through the skies to communicate, cooperate and coexist. Since its founding six decades ago, the company has been synonymous with satellite-industry "firsts" in service to its customers and the planet. Leaning on a legacy of innovation and focusing on addressing a new generation of challenges Intelsat team members now have their sights on the "next firsts" in space as they disrupt the field and lead in the digital transformation of the industry.
Media Contact:
Melissa Longo – [email protected]; +1 240-308-1881