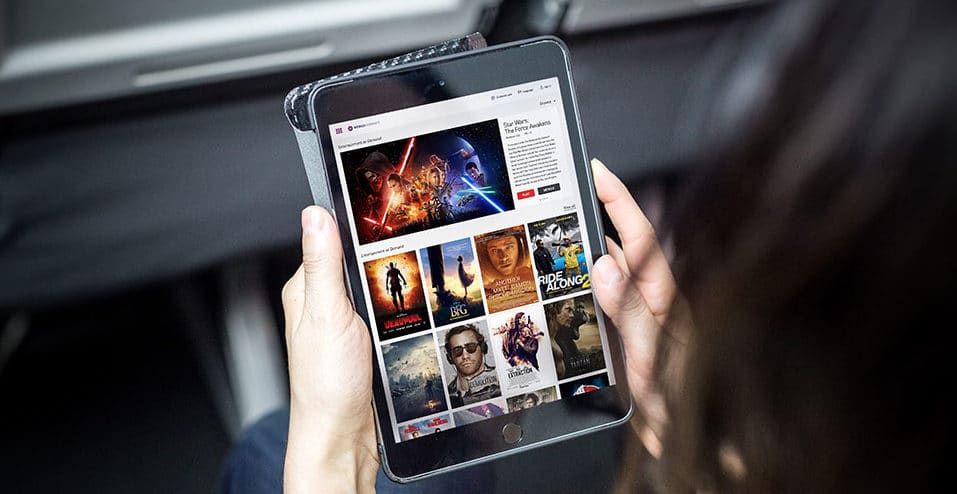 Intelsat's wireless inflight entertainment (W-IFE) product is installed on more aircraft than any other wireless IFE solution – almost 3,200 in total. The service has grown exponentially since its launch in 2012, and we now see 750,000+ views every week. As we continue to serve more passengers, our team studies usage trends to identify ways to create the next generation of inflight entertainment.
Device-optimized inflight entertainment
A key goal is to ensure W-IFE is available on as many operating systems and devices as possible, as well as making sure we can deliver the service to every passenger onboard, no matter how large the airplane. Today, it is accessible on many device types, which include various laptops, tablets, and mobile phones. Our in-cabin network also allows up to 60 devices to connect to one WAP (Wireless Access Point), meaning that just three WAPs can serve an entire narrow-body aircraft. And the system is installed on 85+ different types of aircraft. Our team continues to focus on accessibility by expanding the list of devices served and exploring ways to innovate our in-cabin network for all aircraft types as new technologies become available.
We have also seen mobile device views grow over 600% since wireless inflight entertainment's first year in service, and it is now watched over 50,000 times on mobile phones every day. We expect that number to increase as preference for mobile phones grows and airlines opt for seats without seatback screens. With this knowledge, we have optimized the user interface for mobile browsing and viewing. This means categorizing content into more actionable modules, as well as adding filter options that are easier to use on a mobile device.
We have also created a software development kit that allows airlines to integrate wireless inflight entertainment directly into their app. This reduces the requirement of downloading a new app for access to content while also immersing passengers in the airline's brand. Since our partners began integrating W-IFE into their apps, we've seen a positive impact on both take rates and app downloads. 
Incorporating flexibility for additional content
Our wireless inflight entertainment offering supports over 300 movie and TV show titles, and we refresh that library as frequently as every 30 days across our partners' fleets using ground operations teams. These cycles can be cut even shorter using wireless content loading instead of manually loading the content via flash drives. Our development teams are also looking to expand storage capacity in the onboard server to support even more content. In addition to movies and TV shows, we've also seen demand from passengers for other content such as live TV, music, and periodicals, so Intelsat is continually looking to expand our entertainment selection.
There will also be partnership opportunities for airlines and content streaming providers to give passengers access to their streaming site accounts within the inflight entertainment experience. Our team is continually redesigning the user interface for more modularity and flexibility so that airlines can easily incorporate additional content types, whether it is music, live TV, or streaming sites, as they become available.
The W-IFE team has learned a lot over the last five years about passengers' inflight entertainment needs, and we are using this expertise to develop products that support a more connected, mobile, and personalized inflight experience. As passenger and airline needs change, our team is continuously innovating the next generation of inflight entertainment.