Your Internet Experience in the Sky is Finally Here
February 03, 2022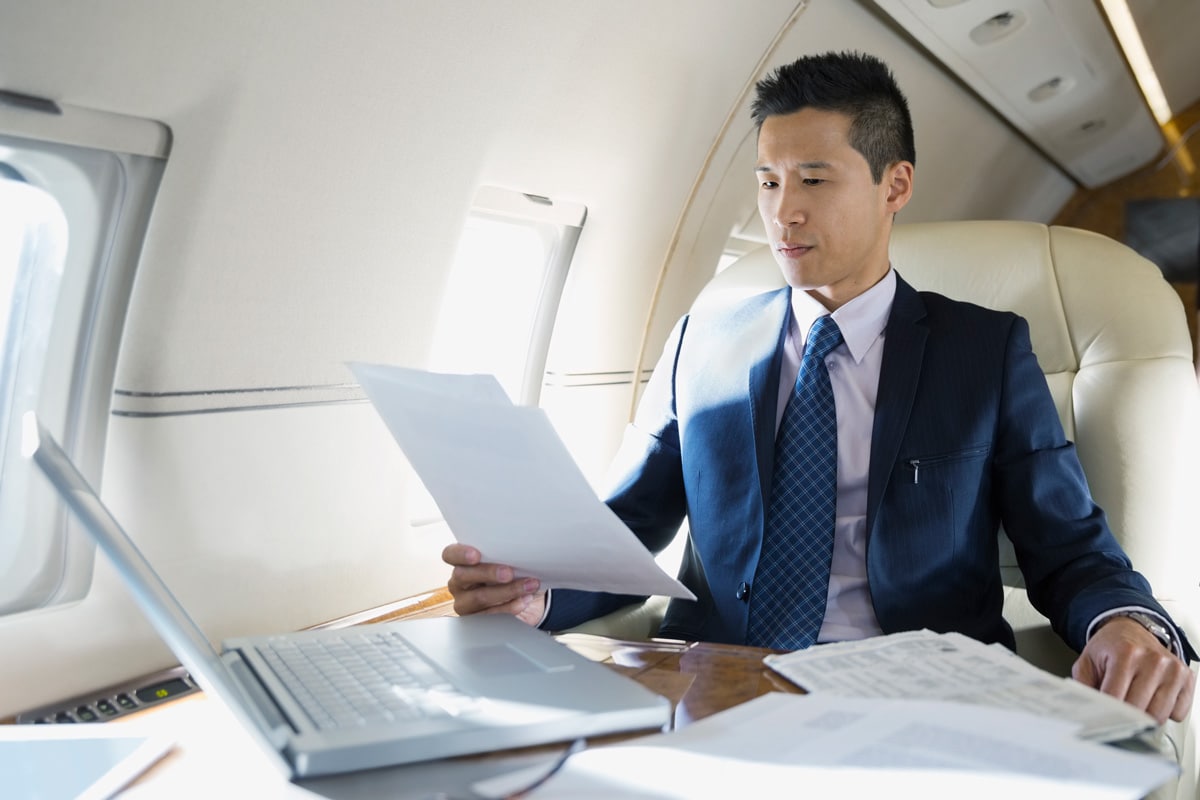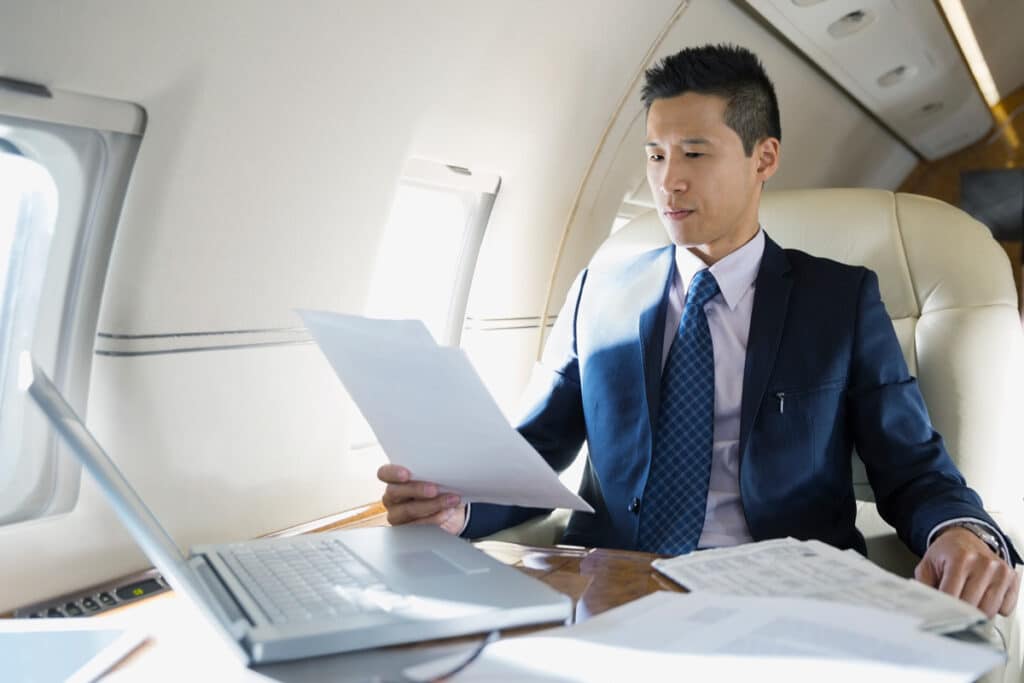 Now more than ever, private aviation is the air travel option of choice for business executives, principals, and heads of state around the world. While general travel dipped during the COVID-19 pandemic, business jet travel surged. November 2021 was the busiest month on record for global business jet activity showing a 15% increase from November 2019. Now, just a month into the new year, global business aviation traffic has surpassed January 2021 numbers by 17%. In contrast, general commercial airline travel was 31% slower over the same period.
Business jet travel prioritizes convenience, comfort, and productivity for principals; however, legacy inflight connectivity services can be inconsistent, expensive, and limited depending on the aircraft type and size. This is all changing thanks to Intelsat and Satcom Direct.
Offsite Shouldn't Mean Offline
The workplace, like the world itself, is becoming more reliant on connectivity. Much of our work is stored in the cloud, and our productivity is dependent on a connection to a network. For executives, principals, and other business aviation fliers, this evolution in "always available" information gathering and sharing means that reliable, easy to access inflight connectivity is a necessity. Now that remote work and global collaboration are routine, air travel should not limit your ability to remain connected.
Airborne connectivity has traditionally been spotty and slow. Aircraft have only two options when it comes to connectivity: Air-to-Ground (ATG) cellular networks or satellite networks (SATCOM). Aircraft equipped for ATG networks require an antenna looking down at cellular towers on the ground and rely on forwarding signals from the closest tower as an aircraft passes by. ATG networks offer limited coverage outside of North America and are easily impacted by the density of use and weather, making them unreliable at times.
Aircraft equipped with SATCOM also require an antenna, but this one looks up to the satellite network and is the only solution that can offer global coverage, a critical capability for many flying private. These antennas have historically been two to three feet long, mounted on the fuselage, and require a lengthy, invasive installation. Add three to five Line Replaceable Units (LRUs) and these systems take up valuable storage space and create a drag on the aircraft, which adversely affects fuel efficiency, driving up costs.
With an estimated 7 billion air passengers anticipated to fly annually by 2035, demand for bandwidth can also lead to network congestion, slower speeds, and a disappointing connectivity experience that many have come to associate with air travel. Ensuring business jets are equipped with consistent, reliable broadband access is a burgeoning opportunity that rivals a principal's need for comfort and convenience while flying.
Global Broadband Connectivity Made Simple
As the foundational architects of satellite technology, Intelsat operates the world's largest and most trusted satellite and terrestrial network. With a global, multi-layered constellation of over 50 satellites capable of delivering connectivity when and where needed, even the most demanding and unpredictable user requirements are supported. Given its depth and breadth of coverage, coupled with passenger experience know-how, Intelsat is inherently positioned to offer the leading connectivity solution specific to business aviation: Intelsat FlexExec. Making high-speed internet simple and ubiquitous, FlexExec, is an end-to-end, fully managed, high-throughput satellite (HTS) service providing secure, always-available internet access – ideal for VPN, video conferencing, and uninterrupted access to cloud-based applications, enabling productivity at all altitudes. FlexExec users can also stream movies, shop online, and surf the web at their leisure. Further, Intelsat is the only satellite operator with an independent SOC 3 accreditation, the highest standard in cybersecurity of the same caliber as Amazon AWS and the US Department of Defense standards.
Unlike other HTS services, FlexExec is designed exclusively for business aviation meaning bandwidth isn't shared with commercial aviation or residential broadband customers, giving executives and principals dedicated capacity anywhere they fly for even the most data-hungry tasks, such as two-way video and sending/receiving large files. FlexExec is powerful enough to connect every device and application on-board for executives and crew. With seamless, redundant coverage built-in, users can expect continuity in service throughout their entire journey.
Available exclusively through Satcom Direct, FlexExec is the only connectivity solution integrated with the Satcom Direct Plane Simple™ Antenna System. This compact, advanced tail-mount, Ku-band terminal packs a powerful mix of performance and affordability. Plane Simple features a cost-effective, ultra-modern design with only two LRUs, giving it a tiny footprint to allow for more valuable cabin luggage space.
Satcom Direct, the leader in customizable business aviation solutions, offers unrivaled service plan flexibility with FlexExec empowering aircraft owners and operators to purchase airtime based on unique needs including budgets, maintenance schedules, and downtime with by-the-hour and pay-as-you-go data plans available. FlexExec is tried and tested on flights worldwide with the average aircraft consuming 4.95GB per flight, achieving consistent and reliable connectivity from takeoff to landing.
"We are proud to be introducing such a powerful, new connectivity solution for business aviation users. Through our antenna development program, and our enduring relationship with Intelsat, we have successfully created end-to-end, seamless connectivity for this highly demanding sector," says Jim Jensen, Founder, and CEO, Satcom Direct.
Intelsat FlexExec and SD Plane Simple Delivers Service Excellence:
Global, secure, always-available service dedicated to business aviation
Fast, reliable connectivity for every onboard device and every application
Data speeds up to 15/2 Mbps for all service plans
Multi-layer HTS network for unrivaled resiliency and redundancy
Future proof connectivity with Intelsat's ever-expanding network
24/7 enhanced data collection, troubleshooting and service support
Historically, the time business travelers spent in the air was time disconnected from their work, important affairs, and family. In this era of digitalization, expectations have evolved, and being disconnected simply won't fly. Reliable connectivity that is simple to install, use, and purchase through services like FlexExec extends the kind of broadband service we expect in our homes and workplaces to the sky.
Looking to upgrade your in-flight connectivity experience? Contact Satcom Direct at https://planesimple.satcomdirect.com/.