Reliable Satellite Connectivity for Continuous Inflight Connections Everywhere
October 30, 2023
Todd Cotts, Senior Principal Product Marketing Manager, Mobility
Read time: 3 mins.
Private jet travel continues to reach new heights and eclipse industry records, with 5.5 million flights in 2022 besting the previous year's record mark of 3.1 million. Business executives as well as leisure travelers turned to the convenience and intimacy of private jets with increased frequency during the pandemic. The trend shows little signs of abating, even in the throes of a challenging global economic climate.
Business jet travel is no longer relegated to the world's richest companies and wealthiest individuals. A National Business Aviation Association report found that smaller companies with fewer than 500 employees now account for 70% of private jet charter usage in the US. New pricing models, jet card programs, fractionalized ownership, charters, and a range of other creative programs have made private jet travel more accessible to families, vacationers, and average individuals. 
In addition to spacious seats, copious food and drink, and all the obvious conveniences of private jet travel, passengers also expect a critical luxury while on board – high-speed connectivity.
No matter the passenger type or the purpose of the journey, private jet passengers expect to have the same robust and reliable connectivity experience in the air as they do in their homes and offices on the ground. Business executives need secure internet access to maintain maximum productivity and efficiency, manage ongoing business activity, send and receive important emails and documents, and engage with work colleagues in real time. Leisure travelers want to consume the latest streaming entertainment and have the ability to communicate with friends and share experiences via social media and other messaging platforms.
With more private and business jets in the air than ever before, the demand for bandwidth that can support data-intensive applications and platforms has grown exponentially as well. Estimates suggest capacity requirements are expected to increase tenfold by 2030, placing undue strain on the satellite networks relied upon for connectivity. Competition for network bandwidth can lead to spotty coverage, periods with limited or no service, and frustrated passengers.
A high-throughput satellite communications network service, such as Intelsat's FlexExec, solves this emerging challenge for business jet owners and operators by enabling a consistent and high-quality inflight connectivity experience no matter where the plane flies.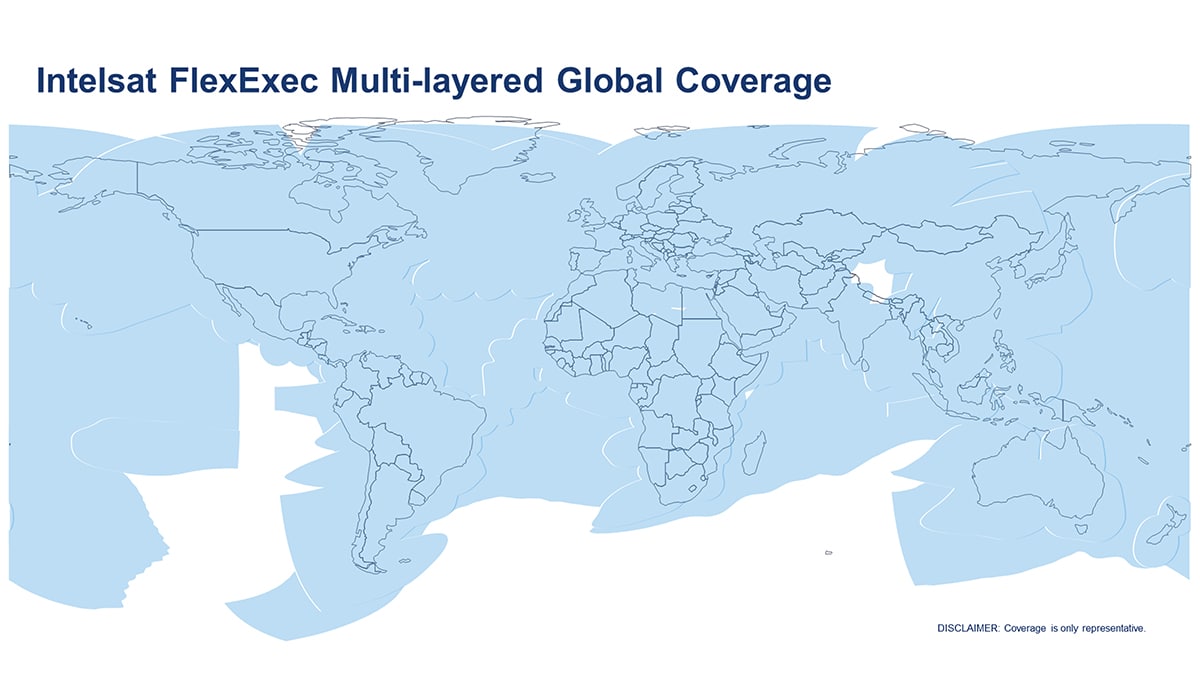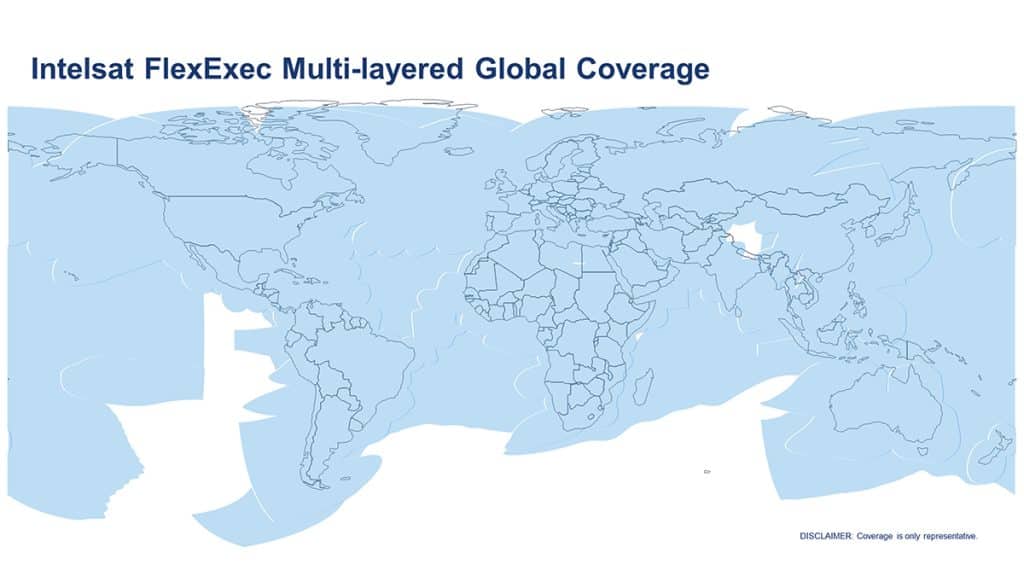 Delivered as a fully managed service exclusively though Satcom Direct, an Intelsat partner, FlexExec provides private and business jet owners with a dedicated, unshared, and uncontested communications channel even in high-traffic air routes. Fleet owners get the peace of mind of knowing their passengers will always have connectivity from the moment the flight takes off until touchdown. With Satcom Direct's advanced Ku-band antenna mounted on the tail, combined with a next-generation, fiber-based network on the ground, FlexExec offers business jet owners a flexible inflight connectivity solution with a range of data plans to meet any budget and accommodate all flying needs.
Today, FlexExec is powered by a multi-layered, multi-beam high-throughput satellite network. By the end of 2023, the service will have access to 16 satellites and 206 high-throughput beams, supported by 14 global teleports on the ground, ensuring complete redundancy and the ability to deliver a premium inflight connectivity experience anywhere in the world. While FlexExec is already a powerful aviation connectivity solution today, continued investments and innovations are set to further enhance the value of the service in the years to come.
The forthcoming launch of Intelsat's new fleet of software-defined satellites will enable the ability to reconfigure the network on the fly and dynamically allocate bandwidth to the aircraft and applications where demand is highest, all via the most cost-effective and efficient means. Additionally integrating non-geostationary satellite orbit networks will soon give FlexExec users access to the best of all available satellite networks. Multi-orbit terminals with smart switching capabilities will inform network selection based on the connectivity demands, applications in use, and real-time competition for bandwidth, all while a jet is en route. With Satcom Direct's antenna, business jet owners can enjoy a seamless and cost-effective upgrade path as technology evolves and new network features are launched.
Business jet owners and operators are challenged with meeting the lofty inflight connectivity expectations of their customers, many of whom pay handsomely for the privilege and indulgence of traveling by private plane. By guaranteeing network availability and allocating the right amount of bandwidth to meet the connectivity needs of the moment, Intelsat's FlexExec helps jet owners meet demand and maintain a positive standing with their customers all while operating within the confines of their budgets.