Live Aid, 36 Years Later: Celebrating Satellite History
July 13, 2021
July 13 marks the 36th anniversary of Live Aid, a benefit concert that raised money for the relief of famine-stricken countries in Africa.
The 16-hour "super concert" featured more than 75 acts, including Queen, Run DMC, Paul McCartney, Madonna and Elton John performing in two spots: Wembley Stadium in London and JFK Stadium in Philadelphia.
A crowd of more than 150,000 watched in-person at these sites but, in an astounding technological feat, 13 satellites, including five Intelsat satellites, beamed the broadcast live to televisions and radios across the globe.
According to historical accounts, it was one of the largest-scale satellite link-ups and television broadcasts of all time, with an estimated audience of 1.9 billion, across 150 nations.
Intelsat's global satellite network was integral to powering this historical event.
In fact, according to a 1985 article from Broadcasting Magazine,"11 channels on five Intelsat satellites were among the six satellites used for the international transmission of the event."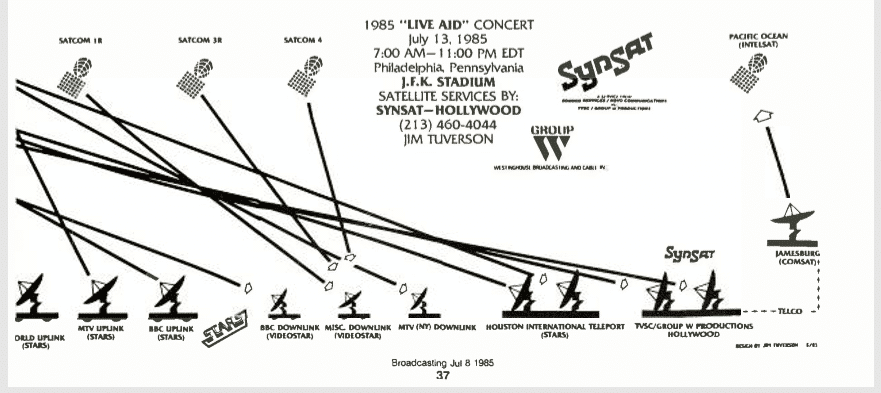 The broadcast required between 13-16 hours of transmission time. "No one has ever required such massive amounts of time," said Jim Tuverson, head of Television Videotape Satellite Communications Group's West Coast operation, at the time.
In a 1989 interview with the Smithsonian, Live Aid's producer, Hal Uplinger, talked about the "complicated" logistics and satellite set up:
"It was a little complicated. Our major coordinating control point was Philadelphia. Everything, including Wembley, came into Philadelphia before it went to be seen on the BBC. The stadium in Philadelphia was simply an ideal place control, because there was an area in back of the stadium. We had, I think, 35 trailers there and an entire field of satellite dishes that controlled our uplinks and downlinks. We were able to have a place where we could control all communications. From there it simply becomes a logistical situation to put the proper people to handle the proper jobs and to make sure that it all comes together from a master control truck. It was from this master control point that we had a world feed truck and a USA truck. We were feeding MTV as well. Then, of course, with all the rest of the vehicles, there were the video tape units or whatever else was necessary. Our problem was time. We didn't have enough time. Yet the fact that we didn't have the time probably made it possible."
Uplinger won the 1989 Computerworld Smithsonian Award in the Media, Arts & Entertainment Category for his production of the "Live Aid Concert."
The event itself raised more than $125 million in famine relief for Africa, as well as global awareness of a critical humanitarian issue.
From Live Aid to the moon landing, Intelsat has transmitted the biggest moments in the world for everyone to share. Learn more about our next-generation global broadcast capabilities at www.intelsat.com/solutions/media/.
To revisit the Live Aid experience on its 35th anniversary, click here.