Intelsat Survey Points to Emerging Inflight Internet Trends
April 01, 2021
Post-COVID Travel Should Include Better Inflight Connectivity, Survey Finds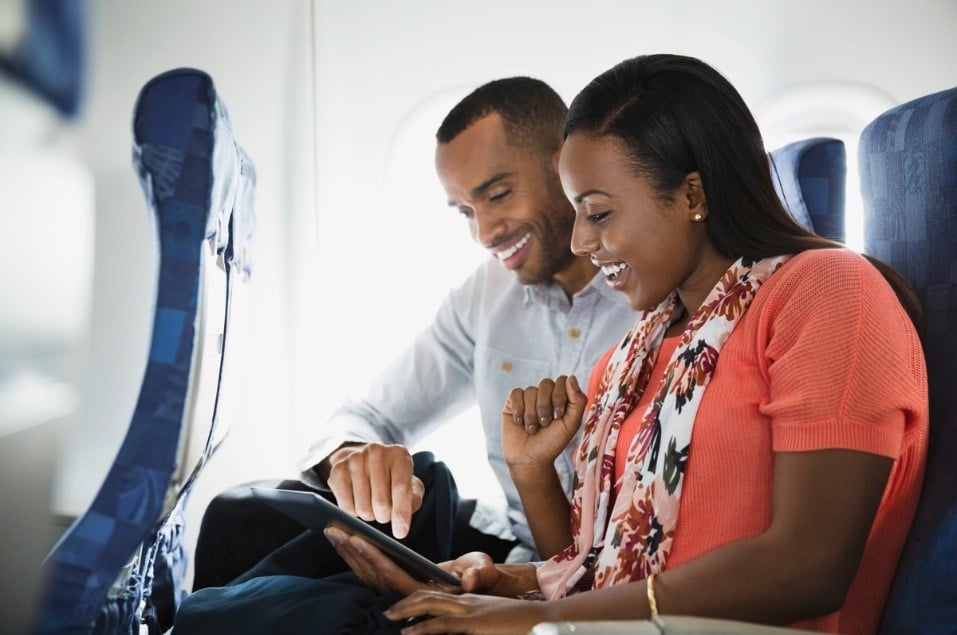 It's no surprise that the COVID-19 pandemic has wreaked havoc on the commercial aviation industry. With global vaccination rates surging, however, airlines are optimistic that most passengers will soon return to booking both business and leisure trips. In fact, TSA daily screenings recently topped 1.5 million for the first time in almost a year, leaving airline executives very optimistic.
Intelsat recently conducted an Inflight Connectivity (IFC) survey asking airlines, service providers, and Original Equipment Manufacturers (OEMs) what they believe the future of IFC will look like. The survey aimed to gain an understanding of how inflight internet demand and service requirements have changed in light of the pandemic.
At a high level, here's what we found:
65% of respondents think there will be an increase in the number of inflight passengers who expect to be connected.
72% of respondents believe we will see increased demand for remote, work-based applications such as video conferencing, cloud computing and VPN onboard.
An overwhelming 85% of respondents anticipate an increase in appetite for cabin crew applications. Having a toolkit of connected devices can empower crew members to surprise and delight customers, fostering a personalized interaction with the help of real-time passenger insights.
These trends mirror what we're seeing at Intelsat. Airlines are thinking creatively about how they can leverage IFC to increase brand loyalty while saving on OPEX. One example is the proliferation of cloud applications for real-time maintenance and monitoring, a use case that is becoming increasingly popular with airlines.
85% of our survey respondents believe that "quality" inflight connectivity is a key differentiating factor for airlines. This expectation implies an uptick in appeal for Wi-Fi that is not only available, but also strong enough to keep up with today's digitally-savvy passengers, who expect to be able to connect, stream content and do everything at 35,000 feet they could on the ground.
According to a recent study, global online content consumption soared in 2020 with consumers almost doubling their time spent engaging with content to six hours and 59 minutes a day during the pandemic. Connected TV options like Netflix, Hulu, Disney+, and Peacock were the main beneficiaries of this increase. With digital content consumption on the rise, airlines can see how their customers stand to benefit from a rich IFC experience.
While we see new content trends emerging during the pandemic, Intelsat survey respondents also identified top challenges preventing the average passenger from immersing themselves in content during their flight.
Wi-Fi session prices ranked as the top impediment to increasing IFC take rates, with 44% of respondents selecting this roadblock.
"Poor internet connection" ranked second.
Other options included payment friction, ease of getting connected, poor service experience, and lack of understanding of how the service works.
Airlines are evolving their IFC product offerings to better align with their business objectives. For some, this means maximizing IFC take rates, while for others the goal is to maximize revenue.
While free basic texting is offered by several airlines worldwide today, only 18% of respondents said this was their preferred IFC product offering.
Almost half of those surveyed want all passengers to browse the internet, shop online, listen to music, check emails, send large files, and stream premium content for free without constraint.
22% prefer a "freemium" model, meaning free internet access for loyalty and/or business class passengers only.
If there continues to be a shift towards free Wi-Fi, it begs the question, who will pay for it? We found that, increasingly, the expectation is that this is someone other than the passenger.
Almost two-thirds (72%) of respondents are inclined to have service expenses offset through partnerships; this could be agreements with major online retailers and social apps or even a sports streaming service like ESPN+.
As airlines continue to rebound during the pandemic, alternative distribution models can unlock new opportunities and revenue growth. We expect these models to pick up more steam as additional success stories come to light, such as the partnership seen between Intelsat's Gogo Commercial Aviation business and T-Mobile.
Not all airlines who want to offer free Wi-Fi are financially positioned to do so; instead, they may opt to first invest in free messaging and freemium models. This approach has still been shown to have a significantly positive impact on customer loyalty.
However, with consumer demand for in-flight internet expected to grow by double digits (10%) annually over the next decade, airlines are eager to develop modern ways to differentiate themselves and attract loyal customers.
So, how can airlines achieve brand loyalty without breaking the bank?
Top market analysts believe that industry vertical integration creates efficiencies and a more cost-effective, end-to-end service for airlines and that streamlined services can accelerate growth and higher IFC adoption rates.
Similarly, our survey data found overall positive sentiment towards IFC ecosystem consolidation, with 65% of respondents agreeing that industry unification leads to simplified service options.
Human connection is more important than ever. As we welcome more passengers back to the skies, we must be aware of how their needs are changing and how we can increase passenger satisfaction.
"Staying connected with others is a basic human need. At Intelsat, fulfilling this expectation is our fundamental mission. We firmly believe keeping passengers connected throughout their journey is now within reach for airlines, no matter what their IFC strategy is," said Frederik vanEssen, Vice President of Aerospace at Intelsat.
To learn more about the findings of Intelsat's survey, visit www.intelsat.com/wp-content/uploads/2021/04/intelsat-inflight-connectivity-infographic.pdf.
To learn more about Intelsat's aviation connectivity solutions visit, www.intelsat.com/solutions/aviation/.