Intelsat and Team Rubicon: Connecting Communities through Rapid Disaster Response
September 19, 2019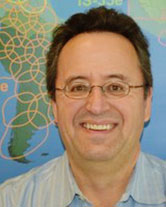 Our nation has been beset by numerous natural disasters over the past two years. I'm a veteran of both the military and commercial satellite industry. I wanted a chance to serve again by supporting disaster recovery efforts, and I found a way to do so through the Team Rubicon organization.
Team Rubicon was born in the aftermath of the Haiti earthquake in 2010. Two former marines, Jake Wood and William McNulty, decided traditional relief efforts were taking too long and decided to act. Assembling a small team of veterans, they deployed to Haiti and eventually provided aid to thousands of survivors. Since then, the organization brought together the unique expertise of military veterans and those of first responders to help accelerate the deployment of emergency response teams to communities affected by natural disasters. The organization has global presence with over 80,000 Volunteers, 75 percent of whom are veterans.
As a satellite professional, I've always known how critical satcom is for effective disaster recovery efforts. I became directly involved with Team Rubicon when Hurricane Florence threatened my hometown, New Bern, NC. It was my chance to hit the front lines again and give back to my own community, supported by the paid community service hours policy of my employer Intelsat General.
Satcom is how connectivity is restored after such a calamity. Team Rubicon works closely with a group called the Information Technology Disaster Resource Center (ITDRC), or as we affectionately refer to them, the "disaster geeks." The ITDRC teams are the ones that set up the satellite dishes that restore the Internet connectivity that is so essential for first responders to do their job. During the Florence operation, an inflatable terminal from GATR connected to Intelsat's global network, restoring connectivity to the area impacted by the hurricane.
Satellites have long played a vital role in providing communications and other services following natural disasters. When hurricanes destroy terrestrial communications, satellites are often the only way to communicate, track critical assets, and access post-disaster imagery. Intelsat works closely with mobile network operators such as Verizon and AT&T and are fully integrated in their respective disaster recovery planning and operations.
Recent advances in high-throughput satellites (HTS) have made satcom are more efficient, more cost effective and high performing. When disaster struck Haiti again in 2016, Intelsat donated satcom services to the American Red Cross to support relief operations. Intelsat provided a very small aperture terminal (VSAT) connection for the Red Cross center for 90 days using HTS Ku-band capacity on the Intelsat EpicNG platform. The performance upgrade made possible by HTS is dramatic.
During the California wildfires this summer, satcom provided real-time intelligence on how the fires were moving to thousands of firefighters on the ground. The California Air National Guard operated unmanned aerial systems (UASs) to maximize the efficiency of the fire crews and to keep them safe. The UAS infrared sensors and laser range-finders can cut through clouds and smoke, providing clear imagery and 3-D mapping of the affected areas.
New business models are also making it easier to put satcom to work immediately after a disaster. Intelsat General's new FlexMove for Government service connects assets on the ground with Intelsat's global satellite and terrestrial network for unparalleled command, control, communications, computers, intelligence, surveillance and reconnaissance (C4ISR). These services can support critical communications between first responders and headquarters, restore GIS systems and provide cellular backhaul when terrestrial towers have been destroyed. The FlexMove for Government managed service platform now allows emergency organizations to purchase these capabilities as an end-to-end mobility solution.
It's not easy for veterans to find the camaraderie and shared sense of purpose once they leave the service. For me, I have found it through my work with Team Rubicon and being a part of the broader satcom industry. Communications provides a vital role in all of our daily lives and never more so than moments of natural disasters when governments and communities need information to keep the population safe, undertake rescue missions and restore services to support the work of early responders, provide vital services and ensure that local businesses thrive again. I am proud that Intelsat General has an active role in helping communities around the world and continues to support organizations such as Team Rubicon.