In-flight Demonstration Shows Power of Intelsat Epic
May 23, 2017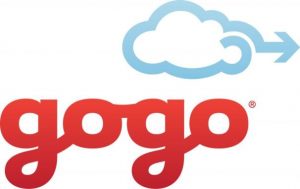 A recent in-flight demo using a Gogo modem connected to an Intelsat Epic satellite confirmed the powerful throughput of these new high-performance satellites. This type of performance will have broad uses for both commercial and government, manned and unmanned aircraft.
As reported by Ari Magnusson, news editor for APEX Media, "Gogo claims its upcoming modem, combined with high-throughput connectivity from Intelsat's 32e Epic satellite, solves a throughput bottleneck, thus enabling performance of 100 Mbps per aircraft."
Gogo, which owns 70-80% of the inflight Wi-Fi market, launched its own satellites and its 2Ku modem platform in 2015 in order to compete with the likes of ViaSat, Panasonic and Inmarsat. During a demo flight of that initial offering, APEX Media's digital editor, Kristina Velan reported speeds between 2.39 Mbps and 8.69 Mbps.
But on the recent demonstration flight with Gogo's next-generation 2ku modem, Magnusson said he found marked improvement. His report said that he registered speeds between 30 and 50 Mbps – "three to four times above my home broadband connection and above what Gogo's current 2Ku system can offer." At these speeds, reporters on the flight were able to conduct a Facebook Live session, have a Skype video call, live-stream the Beats 1 radio station off Apple Music, and watch YouTube videos—all with minimal buffering.
On board Gogo's Boeing 737 airborne test lab, Dianne VanBeber, Intelsat's Vice President of Investor Relations and Corporate Communications, told the press that the satellites were specifically designed with high throughput over the zones with the highest amounts of air traffic.
"We can layer these satellites over each other so you don't just have one layer of coverage, you may have two or three," VanBeber said. "This gives you the density of coverage so that when you are over New York City or Chicago, you are not going to run out of capacity."
By the end of 2018, bandwidth issues will be a thing of the past for many Gogo customers. The company reports that more than 1,600 commercial aircraft are committed to receiving the next-generation 2ku connectivity, with most installations scheduled to take place before the end of next year.
Aside from improving the commercial inflight experience, the new Intelsat Epic platform presents new opportunities for both manned and unmanned aircraft. Government customers can achieve high-data rates for comms-on-the-move and other mobile applications, both in flight and on the ground. Customers also benefit from the throughput efficiencies that come with high-performance satellites, making it possible to support more sensors on unmanned aerial systems, full motion video, and improved situational awareness, without worrying about running out of bandwidth.
Finally, air travel won't mean going back in time in terms of connectivity. Thanks to Intelsat's Epic platform, customers will have true broadband mobility whether they're on the ground or thousands of feet above the Earth. Learn more.