Busting the Myth of Inflight Broadband
January 29, 2021
Welcome to the first installment of Intelsat's "Myth vs. Fact" blog series, where we debunk common myths about satellite communications and highlight how Intelsat innovation is reshaping the future of global connectivity.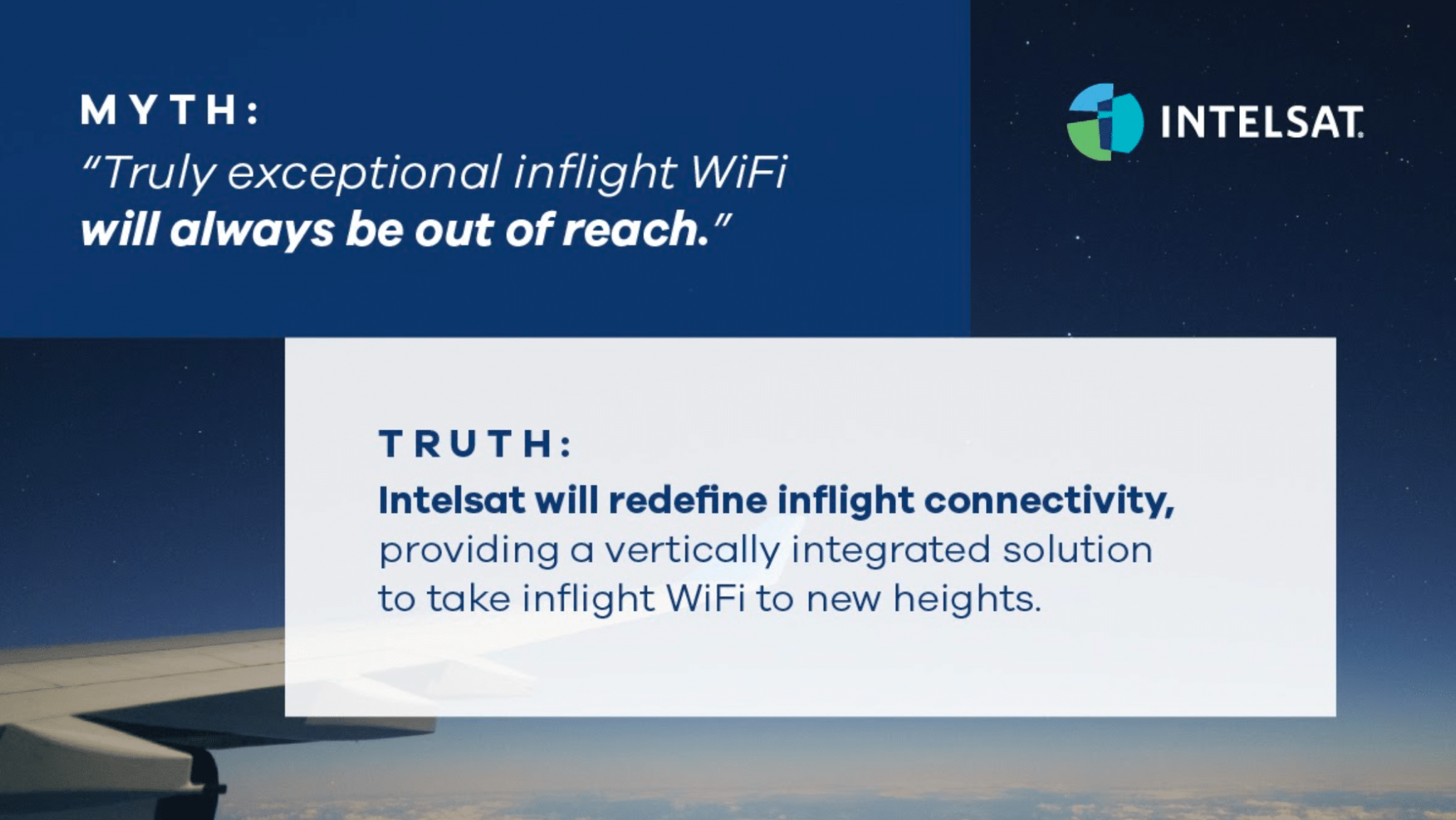 In 2019, U.S. airlines carried more than 925 million passengers, the highest total based on comparable records since 2003. Even in the face of projected near- and medium-term impacts of COVID-19, the global commercial aviation market is expected to grow 10% annually over the next decade.
One thing's for sure: air travel has become more accessible than ever, and in the last few years, the number of airline passengers has skyrocketed.
In our current digital age, connecting to your device while in the air has become more of a necessity than a luxury. Whether it's a phone, tablet or computer, our devices are where we receive our news, watch shows, respond to emails, answer texts and even schedule transportation at the end of a flight via ride-sharing services.
Even as more and more airlines are working to meet the increased demand for in-flight connectivity, passengers still believe that exceptional inflight internet will always be out of reach. And, as Valour Consultancy reported, "it's all too common for passengers to bemoan the lack of Wi-Fi connectivity, or complain about poorly performing Wi-Fi when answering [Net Promoter Score] NPS surveys."
The fact is, inflight entertainment and connectivity (IFEC) has been steadily improving over the past few years. More aircraft are being retrofitted with the equipment and antennas designed to take advantage of powerful multi-layer high-throughput satellite (HTS) networks, like Intelsat's.
Our award-winning global, multi-layered network is uniquely designed to ensure both high-density coverage and redundancy. We consistently ensure our satellite capacity blankets the areas where airlines need it the most, including major hub cities and oceanic routes, ensuring seamless connectivity anywhere in the world, and a reliable, uninterrupted connection for an optimal passenger experience.
In December, Intelsat announced its acquisition of Gogo's Commercial Aviation business. The combination of Intelsat's expertise and next-generation global network with Gogo Commercial Aviation's leading on-board antenna technology, key airline relationships and customer-facing capabilities is a gamechanger for IFEC.
Why? Because we're hard at work with major commercial airlines to provide an "at-home-like" internet experience that their digitally savvy travelers won't want to fly without – ultimately helping airlines boost their brand loyalty and NPS.
No company is better positioned to unlock exciting new growth and brand-loyalty opportunities across the airline industry than Intelsat. By creating a single, vertically integrated solution, we're taking inflight broadband to entirely new heights. And, with ongoing investments, like new software-defined satellites, in our leading global network, we're ensuring our commercial airline customers will have the flexible global coverage they need well into the future.
To learn more about how Intelsat and Gogo Commercial Aviation are redefining IFEC, click here.
And, stay tuned for the next installment of "Myth v. Fact" as we debunk more myths about satellite technology.