Ball Aerospace's Groundbreaking ESA Technology Brings Multi-Orbit Capabilities for Better Inflight Experiences
October 03, 2023
Aimee Emery-Ortiz, Product Marketing Manager, Commercial Aviation
In today's hyper-connected world, people expect instant access to the things that let them live their lives – whether that's collaborating with remote colleagues on a project for work, texting with family, searching the internet for news and information, streaming the latest videos, or gaming with friends around the world. Those expectations don't change when they board a flight.
Recent technology advancements are paving the way to better inflight connectivity experiences. Leading the way is Ball Aerospace's electronically steered array (ESA) technology, which is behind the only commercially available antenna in the airline industry that can connect to both geostationary (GEO) and low-Earth orbit (LEO) constellations. While the ESA antenna is still relatively new to the market, Intelsat recently had a chance to sit down with Ball Aerospace's Matthew Little, Director of Commercial Solutions, and Paul Freud, Senior Manager SATCOM User Terminal Products, to discuss how its compact size, flexibility, increased resiliency, and reliability will positively impact the quality of experience for airlines and their passengers.
Unveiled in June of 2022, the multi-orbit ESA antenna is less than three inches high and weighs less than 140 pounds, making it an ideal solution for aircraft of all sizes. Engineered in partnership with Stellar Blu Solutions, it boasts a streamlined design that optimizes aerodynamics, leading to lower fuel consumption and reduced CO2 emissions. However, it's the cutting-edge functionality that sets the ESA antenna apart from its predecessors. Little explained, "Our approach is an active-designed antenna, that makes the most efficient use of space possible for a full-duplex system."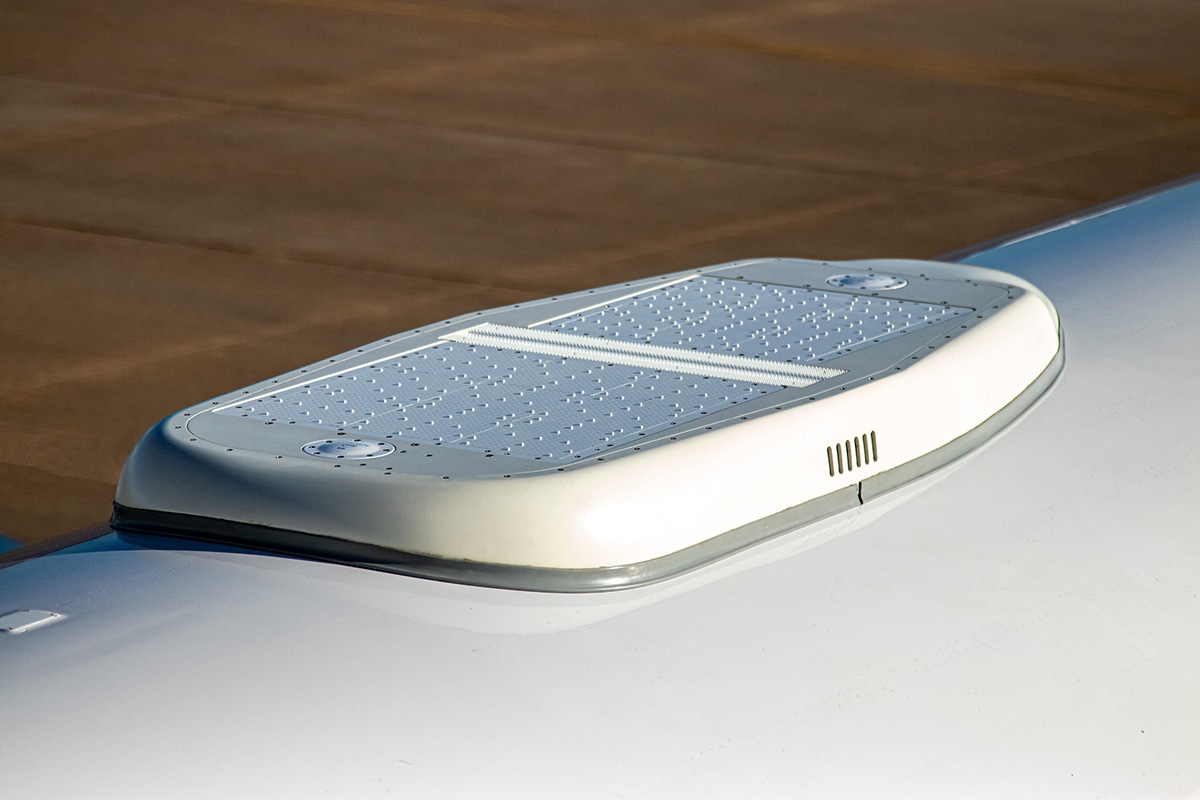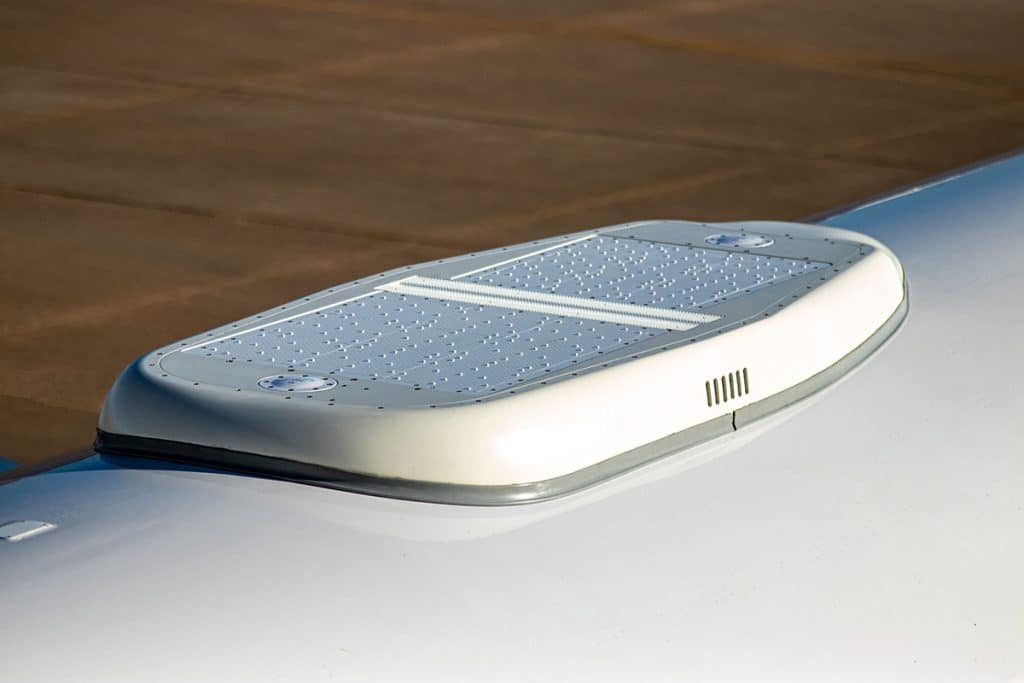 In February 2023, Intelsat demonstrated the capabilities of the ESA antenna to a group of airlines on board the company's CRJ-700 aircraft. The objective was to connect to the LEO and GEO networks demonstrating the connectivity performance of each network. In both cases, the ESA met or exceeded design objectives and performance projections. Several airlines, including Alaska Airlines, have already selected Intelsat's ESA solution with entry into service expected in early 2024.
Relying on Ball Aerospace's mature technology, the ESA antenna is software-defined, which allows it to easily connect with the appropriate satellite network. Unlike traditional IFC systems that require separate antennas for communication with GEO and LEO satellites, this compact antenna comprises thousands of tiny antennas, providing unprecedented flexibility and adaptability. Airlines can monitor the system from the ground for improved maintenance planning. "As requirements change or new satellites are launched, software upgrades will enable those new capabilities instead of having to replace the antenna," Freud added about the flexibility ESA technology offers. This allows airlines to reduce connectivity interruptions and save costs in the long run.
The ability to shift between GEO and LEO satellites increases the resiliency of the entire system. If an aircraft is flying in congested airspace or will be at a latitude where a certain constellation is unavailable, the system can be configured to provide the best possible performance for those conditions. "We customize the antenna patterns and shapes and all of the things that are generally static with traditional SATCOM antennas into the software-defined system that allows us to easily reconfigure the antenna," Little said. Future enhancements will enable real-time switching between GEO and LEO satellites. For now, though, the preferred orbital network can be optimally pre-set for the flight route, allowing for service everywhere in the world, from the highest-trafficked routes to the remotest regions. The GEO network's redundant capacity makes it ideal for routes over hub cities, while the LEO network offers low latency and polar coverage.
One of the key advantages of the ESA technology lies in its redundancy and reliability. Traditional antennas often suffer from single-point failures, which can disrupt the entire system. In contrast, the ESA antenna's design allows it to continue to operate with high reliability, even in the event of partial component failures. "When you have thousands of minute antennas working in parallel, we generally design those to accommodate failures, such that as degradation occurs, we can continue to operate the system. We designed it ahead of time with margin built in so that our end reliability is high—even though you can lose a few elements, you still meet all the required link parameters," Little clarified. Passengers and crew remain unaware of any issues as the IFC keeps working seamlessly.
Amidst the ever-changing landscape of connectivity, Ball Aerospace's ESA technology already stands as a beacon of reliability and endurance, ensuring uninterrupted connectivity for passengers and crew. Another thing that sets it apart is its immunity to the prolonged semiconductor supply chain shortage that has recently plagued many industries. In the not-so-distant past, the specialized circuit boards required for ESA antennas were scarce, their availability limited by a handful of suppliers. But as technology progressed, new vendors emerged, ready to meet the demand. Thanks to Ball Aerospace's strong relationships with these vendors, supplies are abundant, allowing for efficient production of circuit boards for the ESA. With these circuit boards serving as the fundamental building blocks of antennas, the needs of commercial airlines can be readily fulfilled.
Ball Aerospace's ESA technology ushers in a new era of inflight connectivity, surpassing the limitations of previous Wi-Fi offerings. With its lightweight design, aerodynamic efficiency, and cutting-edge functionality, the ESA antenna provides unparalleled reliability and resiliency allowing airlines to deliver the best possible experience for their passengers.
Learn how Intelsat's ESA antenna can elevate your airline's passenger experience.