Intelsat Wins MSUA's Aerospace/Aviation Mobile Innovation Award for FlexExec
March 16, 2023
For passengers on aircraft equipped with the SD Plane Simple® terminal, the FlexExec network guarantees the throughput needed for streaming, sending and receiving large files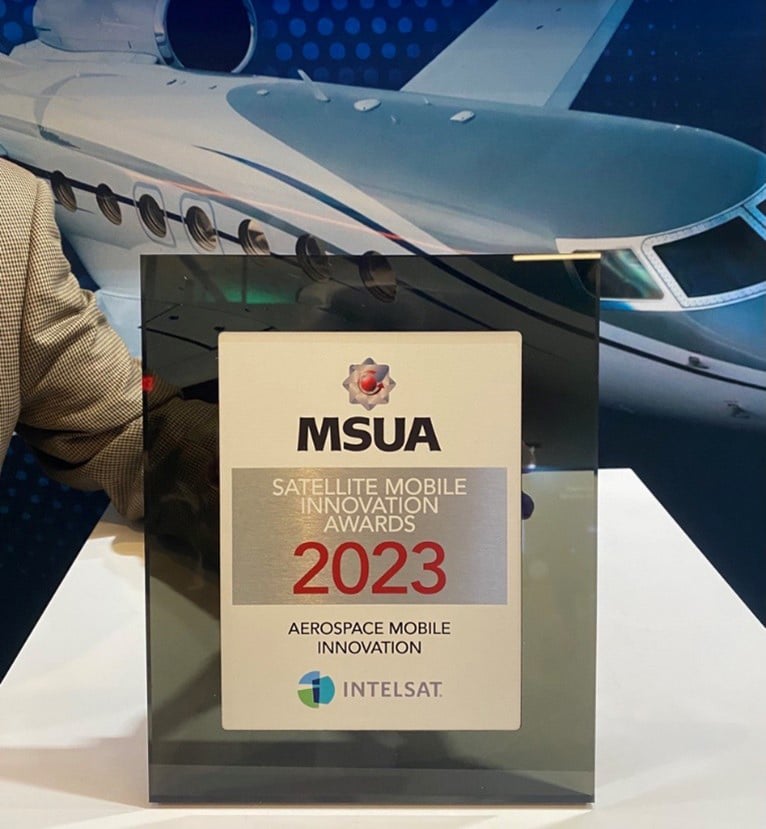 MCLEAN, Va. – Intelsat, operator of one of the world's largest integrated satellite and terrestrial networks and leading provider of inflight connectivity (IFC), has accepted the Aerospace/Aviation Mobile Innovation Award for FlexExec by the Mobile Satellite Users Association (MSUA).
FlexExec, paired with Satcom Direct's SD Plane Simple® Ku-Band antenna, provides government aviation and business jet passengers with high-speed, global, connectivity. The solution guarantees throughput needed for streaming, video conferencing and sending and receiving large files.
The SD Plane Simple Ku-band terminal paired with the FlexExec network entered commercial service in 2023.
Intelsat FlexExec is a multi-layered, high-throughput global network designed to serve the business and government aviation sectors. The SD Plane Simple Ku-band tail-mount terminal is a compact, high-performance terminal system designed to meet the sector's specific needs. The ground-breaking technology of the Plane Simple antenna, combined with the flexible service plans made possible by FlexExec and offered by SD are bringing customers reliable, global, customized connectivity solutions.
"Keeping people and machines always connected while on the move is critical to business, whether on land, in the air or at sea," said Mark Rasmussen, Intelsat's senior vice president of Mobility. "At Intelsat, we applied our space and network expertise to create a flexible, enterprise-grade, end-to-end managed service that delivers high-throughput, reliable connectivity whenever and wherever it's needed. And as we continue to rapidly evolve our next-generation unified network, we are positioned to meet tomorrow's demand and beyond."
The Mobile Satellite Users Association, a global not-for-profit organization focused on amplifying the voice of satellite mobile services users and innovators, celebrated with organizations earning satellite mobile innovation awards during Satellite 2023 in Washington, D.C.
To learn more, visit our website.
About Intelsat
Intelsat's global team of professionals is focused on providing seamless and secure, satellite-based communications to government, NGO and commercial customers through the company's next-generation global network and managed services. Bridging the digital divide by operating one of the world's largest and most advanced satellite fleet and connectivity infrastructures, Intelsat enables people and their tools to speak over oceans, see across continents and listen through the skies to communicate, cooperate and coexist. Since its founding six decades ago, the company has been synonymous with satellite-industry "firsts" in service to its customers and the planet. Leaning on a legacy of innovation and focusing on addressing a new generation of challenges Intelsat team members now have their sights on the "next firsts" in space as they disrupt the field and lead in the digital transformation of the industry.
Media Contact:
Melissa Longo – [email protected]; +1 240-308-1881