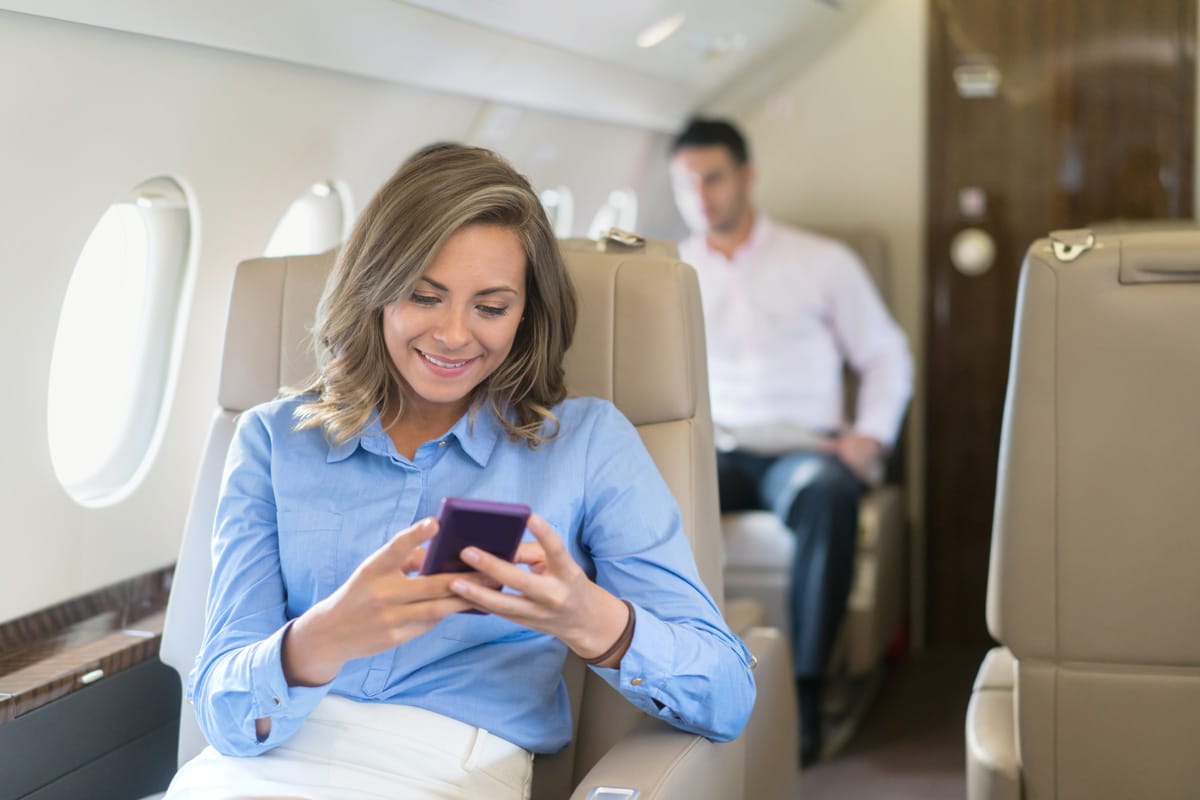 A New Era of Connectivity Has Arrived
Principals and executives flying private jets expect to stay connected at all times. No exceptions. When 80% of flight hours occur over less than 20% of the world's geography, it's critical to have redundancy and reliability built in to your connectivity network.
What Passengers Want:
Availability: Dedicated, always-on global capacity specifically for business aviation customers.
Reliability: Redundant coverage specifically over high-traffic aero routes.
Performance: Consistent experience without any buffering for every passenger, every device.
Flexibility: Service plan flexibility tailored to individual customer needs.
Security: Peace of mind with secure communications and cyberthreat protection.
Soar with the Power of FlexAir
Intelsat FlexAir is a global, multi-layered, Ku-band, high-throughput satellite (HTS) connectivity service that ensures secure, high-density coverage no matter where you fly. Our network design is fundamentally different from our competitors because it's built on layers of redundant coverage. Capacity is committed to deliver business aviation connectivity and isn't shared across other verticals like commercial aero and consumer broadband. This means, business travelers can expect a reliable, consistent connectivity experience every time they fly.
The open-architecture network design of FlexAir is a proven, risk-averse solution that enables seamless compatibility with different hardware and technology solutions. Our robust, fully integrated IntelsatOne terrestrial network manages the complexity and orchestration across the different infrastructure components while delivering continuity to the passenger experience. This level of interoperability means flight departments aren't forced into a one-size-fits-all decision, and as future technologies hit the market, their connectivity investment remains protected.
Abundant in satellite capacity and resources, the unrivaled Intelsat network allows us to quickly respond to unpredictable changes in demand. Offered exclusively through Satcom Direct, FlexAir is a fully managed, customizable, high-speed broadband service that will live up to your connectivity expectations, no matter how they evolve in the future.
With the power of FlexAir Intelsat delivers the best experience every time. This means no more throttling applications. Business jet travelers can stream movies, send large files, video conference, and stay productive when it matters most; no strings attached.
As cyberthreats grow more advanced, so must your satellite communications infrastructure. Held to the highest security standards, Intelsat is the only commercial satellite operator with independent Service Organization Controls (SOC 3) accreditation. Read more about our secure communications.
FlexAir Qualified Terminals
Intelsat has tested and qualified a portfolio of terminals for FlexAir offered through our Master Distributor, Satcom Direct.
Learn More
Service Delivery Done Right
Our easy-to-use Service Management Portal enables customers to provision and monitor activity in real time. Establish connectivity in under one minute.
Learn More
Related FlexAir Resources