Working Double-Time: Intelsat's Next Launch
July 15, 2016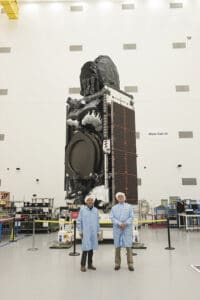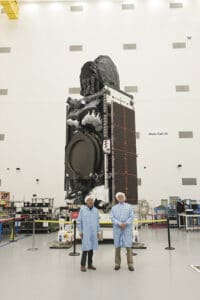 Intelsat has launched two satellites already in 2016: Intelsat 29e, the first of our Intelsat EpicNG high throughput satellites was launched in January, and Intelsat 31, providing media services over Latin America, was launched in May. Next on our schedule is the dual launch of Intelsat 33e and Intelsat 36, set for 24 August 2016 aboard an Ariane 5 vehicle from Kourou, French Guiana.
Intelsat 33e, manufactured by Boeing, is the second of our Intelsat EpicNG satellites and will deliver high performance with the most flexible satellite architecture design, enabling customers to expand their addressable markets. Intelsat 33e combines high throughput Ku-band and C-band spot beams across Europe, central Africa, the Middle East, Asia and Australia to meet broadband demand for carrier-grade telecom, enterprise and aeronautical connectivity as well as Atlantic Ocean, Pacific Ocean and Mediterranean Sea coverage for maritime broadband applications. A C-band wide beam provides coverage over sub-Saharan Africa and a Ku-band wide beam provides coverage across Europe, the Middle East and Asia.
Intelsat 36, built by SSL, will enhance Intelsat's premier direct-to-home (DTH) neighborhood in Africa. Leading DTH provider MultiChoice will use the Intelsat 36 Ku-band payload to expand its services in Sub-Saharan Africa. The C-band payload will provide services to other customers utilizing this video neighborhood, which also distributes content to South Asian cable communities.
Suffice it to say, our Space Program Office has been working double-time these last several months (and years!) overseeing the manufacturing of these satellites and, in the last few weeks, preparing them to ship to the launch base. Even though both passengers on this launcher are Intelsat birds, each has its own team.
Leading the Intelsat 33e program are Senior Space Program Managers Richard Laurie (pictured above, right) and Brian Sing (pictured above, left, in front of Intelsat 33e at the Boeing factory). Richard has a dozen Intelsat launches under his belt and is looking forward to getting back to the launch base in Kourou so he can practice his French. "I enjoy working with teams from the different organizations on the launches – Arianespace, CSG and, in this case, Boeing, the manufacturer of Intelsat 33e."
Brian has worked on 26 Intelsat launches and considers the upcoming dual launch, "the culmination of almost two years' worth of research, engineering evaluation and design reviews. Arriving at this point, means that the engineering evaluation is in order and we can go operational at the launch site."
Leading the Intelsat 36 program are Senior Space Program Managers Jon Harborne and Todd Schilb. This will be Jon's 14th launch campaign with Intelsat and his tenth in Kourou. "It will be great to be back in Kourou as it's the first time we've had an all-Intelsat dual-launch with teams from both Boeing and SSL plants."
Todd has been working on launches for 20 years, and counts this next one as his 14th at Intelsat. "There is nothing like launch day, especially the final seconds before lift-off, when everything goes quiet just before the engines ignite."
Stay tuned to the Intelsat blog, Twitter and LinkedIn for the latest as our teams prepare Intelsat 33e and Intelsat 36 for this exciting launch!