What's the Best Way to Meet the SatCom needs of Global Governments?
May 04, 2017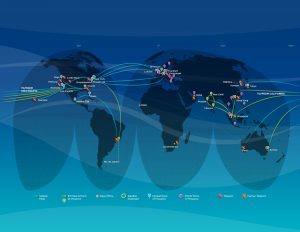 At Intelsat and Intelsat General, we know that customer needs typically differ to some degree. However, decades of experience serving government customers have demonstrated recurring themes and requirements, especially in the areas of performance, resiliency and flexibility.
To better meet these needs in the international arena, Intelsat has created a Global Government team focused on addressing non-U.S. government requirements. This international team will include newly added staff in the Europe, Middle East and Africa, and Asia Pacific regions.
Previously, non U.S. Government customers were serviced by multiple groups inside the company, some by region and others by business line. Making the most of the continued evolution of Intelsat's space technology and service offerings, the Global Government team will ensure that every international government customer receives the full breadth of Intelsat experience and best practices.
"Our goal is to provide world class service to the government customer, by taking an enterprise-wide approach, no matter where the customer is located," said Rick Henry, IGC's Director of Sales & Marketing. "And, we will continue to leverage our valued regional channel partners and system integrators and their long-standing relationships with governments around the world."
The past year has seen a number of positive developments in the evolution of SATCOM technology. Perhaps the most exciting was the launch and deployment of next-generation high-throughput satellite (HTS) platforms by Intelsat and other commercial operators. This has led to an emerging consensus within many governments about the need for new and more flexible ways to leverage commercial innovation in space.
One of the top requirements among all government customers is the need for more resilient SATCOM. One advantage of Intelsat EpicNG satellites is that it provides a more protected level of satellite bandwidth. Anti-jamming capabilities are greatly enhanced with low-probability of intercept (LPI) and jamming resilience, even to non-frequency hopping modems. Interference-mitigation capabilities like on-board power monitoring and notch filtering of interferers/unauthorized users as well as monitoring, re-routing, geo-location and identification of interferers means EpicNG SATCOM is better protected for deployment in contested environments.
Greater mission capability for smaller and smaller Unmanned Aerial Systems (UAS) is another common requirement we hear about from our US and international government clients. UAS are constantly being challenged to deliver as much data as their sensors can produce. Tests conducted on Intelsat EpicNG using a 15cm (6-inch) flat-panel antenna on an UAS transmitted at 3.9 Mbps to a 13.5m receive antenna. That's more than 3x the efficiency previously seen by Class III UAS using traditional satellite systems.
Government demand for the latest satellite technology is on the rise worldwide. For example, NATO has announced that it plans to spend $3 billion over the next three years upgrading its satellite and computer systems. And $1.7 billion of that amount is slated for improving satellite communications with troops and ships, as well as more efficient use of UAS.
Intelsat's Globalized Network has a proven track record of reliability, security and performance for the most demanding government communications, and the flexibility to keep pace with changing geographic and mission requirements. The new Global Government team will ensure that as technologies and service models advance for better and better SATCOM, IGC will deliver the latest solutions and best practices to all our government customers.