USAF Secretary Heather Wilson Determined to Stay Ahead in Space
June 08, 2017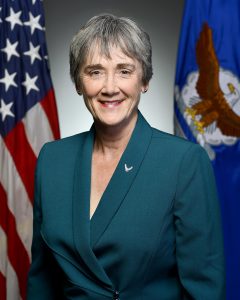 The White House recently swore in former Congresswoman Dr. Heather Wilson as the 24th Secretary of the U.S. Air Force, the first Air Force Academy graduate to hold the service's top civilian post. Wilson assumes her new position at a time when many believe the U.S. Air Force faces a number of serious readiness and modernization challenges.
"Innovation doesn't always come from something the government sets out," she said at Air Force Association event in Washington. "It comes from your laboratories."
In a statement released prior to her confirmation, Wilson said, "America and our vital national interests continue to be threatened. I will do my best, working with our men and women in the military, to strengthen American air and space power to keep the country safe."
Space technology is undergoing a fundamental transition. For example, a more resilient commercial SATCOM is coming on line. The digital payload on the new Intelsat EpicNG satellites provides added security and anti-jam capabilities, and the spot-beam architecture limits the area from which jamming can be effective.
In her first public remarks as secretary, Wilson again pointed out the need to innovate faster. To this end, she expressed the need to increase the Air Force's research budget and turn to industry. She has also stated that Congress needs to put an end to the budget caps that keep the Pentagon from building up its readiness and replace outdated systems.
"If you don't provide relief from the Budget Control Act, we will hollow out the force and set ourselves back years. We have to get beyond the Budget Control Act."
Wilson replaces Acting Secretary Lisa Disbrow, who filled the position temporarily after former Secretary Deborah Lee James left with the Obama administration. The incoming secretary knows well the value of research and development in the private sector.
Most recently, she was the president of the South Dakota School of Mines & Technology, an engineering and science research university in Rapid City, SD. In addition, Wilson has served as a senior advisor to several national laboratories on matters related to nuclear weapons, non-proliferation, arms control verification, intelligence and the defense industrial base.
A native of Keene, NH, Wilson grew up around aviation. Her grandfather flew for Great Britain's Royal Flying Corps in World War I, and after emigrating to America, operated an airport and helped establish the New Hampshire Civil Air Patrol. Her father started flying at age 13, and Wilson herself is an instrument rated pilot.
Wilson graduated from the Air Force Academy in 1982 as part of the Academy's third class to admit women. She was the first woman to command basic training and the first woman Vice Wing Commander. She was also a Rhodes Scholar at Oxford University in England, where she earned master's and doctoral degrees after leaving the Air Force Academy. Wilson served as an Air Force officer in Europe during the 1980s.
She left the Air Force in 1989 to become director for European Defense Policy and Arms Control for the National Security Council (NSC) under President George H.W. Bush during the fall of the Berlin Wall. Her book, International Law and the Use of Force by the National Liberation Movement, was published a year later.
Wilson was a Republican member of Congress represented New Mexico's 1st District from 1998 to 2009. As a member of the House, she served on the Armed Services Committee, the Permanent Select Committee on Intelligence, and the Energy and Commerce Committee. Prior to her confirmation, President Trump lauded Wilson for her "distinguished military service, high level of knowledge, and success in so many different fields."
The Air Force has a number of initiatives in motion exploring ways government and the commercial space industry can better collaborate in constructing the next generation of space architecture. With her deep background on both sides of the fence, Secretary Wilson seems perfectly suited to push that collaboration forward, maintaining America's technological advantage in space.