The Sky's No Limit for Young Space Professionals
August 11, 2016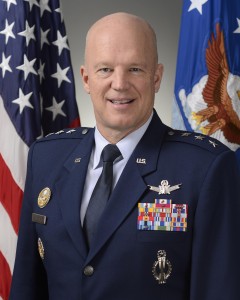 Where once it was enough to develop revolutionary technology to send into space, now there is increased emphasis on protecting that technology once it gets into orbit.
"We're going through a renaissance," Lt. Gen Jay Raymond told a group of young space professionals at a July 14 conference in Washington. "That renaissance is fueled by the need to protect and defend these … space capabilities that we have been so reliant on."
In "renaissance," Raymond, the Air Force's deputy chief of staff for operations, was borrowing from Rep. Jim Bridenstine (R-Okla.), who introduced the "American Space Renaissance Act" in Congress in April. The legislation outlines a broad way forward to support the United States' continued dominance in space. The bill remains in committee, and Bridenstine has said he expects provisions of the "Renaissance Act" to be adopted piecemeal.
Bridenstine addressed the conference and told the young professionals that the increasingly crowded and contested orbital environment requires more attention in a world that relies on satellites for commerce, communications and defense. More resilient satellites are needed, Bridenstine said, as well as better data availability from those satellites in areas such as weather forecasting and more complete space situational awareness. He added that much can be accomplished through integration of government spacecraft with the commercial satellite industry, something industry has supported for years.
Gen. Raymond outlined one method of resilience that would involve industry: disaggregation, "where capabilities are dispersed across several smaller, less complex, more affordable satellites," he said. "Perhaps if we can spread those capabilities across a number of different platforms, including hosted payloads, free-flying payloads, smaller satellites, strategic and tactical capabilities, government, commercial and allies, it'll make the industry that much better for others."
Other officials throughout government, including Douglas Loverro, the U.S. deputy assistant secretary of defense for Space Policy, have been outspoken in their desire to disaggregate satellite capabilities to make them less vulnerable. The move also would promote interoperability among military and commercial satellites, as well as among allies.
Rep. Bill Posey (R-Fla.) also spoke at the conference and advised the young professionals of the challenges they would face in their space-related careers. Posey, whose district includes Florida's Space Coast, was a rocket inspector during the NASA Apollo program, a signal accomplishment that established U.S. preeminence in space.
Now, Posey said, the presence of Chinese and Russian satellites have caused the U.S. to alter the International Space Station's orbit. Posey, who has championed mining asteroids, also warned of funding issues ahead. He told of a 2013 House Science Committee hearing with space officials a month after a 17-meter-across asteroid crashed into a remote region in Russia.
In the hearing, Posey asked the officials, "What would you do if you detected even a small (asteroid) like the one that detonated in Russia headed for New York in three weeks?"
He said he was greeted with silence, after which officials said funding for a NASA program to deal with just such a scenario had been cut by Congress.
Increased competition in space requires increased vigilance, and a well-trained next generation of space professionals.
"Our way of doing business has forever changed, and we have made huge strides in transforming the space enterprise," Gen. Raymond said. "But our adversaries will not let up, so we've got to keep moving forward. … I tell my team, 'We can't whiff, we can't miss.'"