The Man Behind U.S. Space Operations
October 17, 2017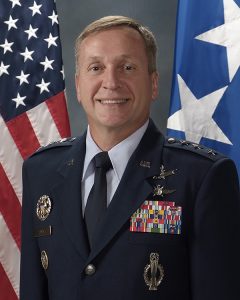 When the U.S. military needs satellite connectivity for any of its operations, it turns to Lt. General David Buck, Commander of both the 14th Air Force of the Air Force Space Command and the Joint Functional Component Command (JFCC) for Space under the U.S. Strategic Command.
The 14th Air Force is the service's operational space component to the U.S. Strategic Command. As the 14th Air Force's Commander, Gen. Buck leads more than 19,500 men and women responsible for providing strategic missile warning; nuclear command, control and communication; the Global Positioning System; space situational awareness; satellite operations; space launch; and range operations.
Wearing his other hat, Gen. Buck also directs all assigned and attached USSTRATCOM space forces as the Commander, JFCC for Space. Gen. Buck's office provides tailored, responsive, and synchronized theater and global space support of national security and combatant commander objectives. His operation is also responsible for protecting and defending critical U.S. and allied space capabilities.
Overseeing two large military organizations is no easy feat, but Gen. Buck brings a wealth of experience to his roles. He received his commission in 1986 as a distinguished graduate of Officer Training School. In addition to a variety of command, test and evaluation, and staff assignments, Gen. Buck's operational experience includes missile operations, space launch and range operations, satellite command and control, space force enhancement, and space control. Prior to assuming his current position, Gen. Buck was first the Director of Operations, then Vice Commander, Air Force Space Command.
As a result of holding these two commands, Gen. Buck is "in position of not only organizing, training, and equipping space forces, but also being a main point-person for the space part of any military operations," Space News said in a recent article.
When a military unit needs space support, it submits the request to the Joint Space Operations Center (JSpOC).
"Typically, we will get those space support requests and say 'how can we best support this campaign?'" Gen. Buck said at a breakfast in April hosted by the Air Force Association's Mitchell Institute for Aerospace Studies. "Typically, in a campaign like this, notionally, it would involve optimizing the precision, navigation, and timing constellation – GPS – and also making sure that our satellite communications systems are queued and ready to support."
In addition to overseeing day to day operations, Gen. Buck is thinking strategically about the U.S. military's future space capabilities. For instance, the JFCC for Space is tasked with assessing the Commercial Integration Cell (CIC) project. The CIC is a pilot program to determine how information sharing and collaboration between the Department of Defense and commercial satellite operators can be improved.
According to our own Tim Turk, who was involved with the program on behalf of Intelsat General, the project "laid the groundwork for sustained, combined operations, and clearly paved the way for an enduring relationship as true mission partners." As the program continues, the JFCC for Space is establishing a framework for further collaboration.
Gen. Buck is also strategizing the best way to beef up the organizations' intelligence capabilities. "To me, intelligence drives operations, and we have to get ahead of adversary actions," Gen. Buck said at the breakfast. "Just like every other domain, I need domain awareness: knowledge of who, what, where, when, and why."
To this end, Gen. Buck is working with the Air Force Deputy Chief of Staff for Intelligence, Surveillance, and Reconnaissance, Lt. Gen. VeraLinn "Dash" Jamieson. Together, they are trying to determine the best way to attract intel personnel to space career fields.
Gen. Buck's efforts to collaborate with commercial satellite partners and achieve an intelligence advantage illustrate his long-range view of the importance of space in military operations. We're excited to continue collaborating with the military in the future within the CIC and support the 14th Air Force and JFCC for Space under Gen. Buck's leadership.