Robert Tarleton looks at the future of military communications satellites while trying to remedy some of the shortcomings of their past. As director of the Military Satellite Communications (MILSATCOM) Systems Directorate at the Space and Missile Systems Center in Air Force Space Command, Tarleton is charged with overseeing several significant MILSATCOM programs worth about $42 billion. As such, he is intensely in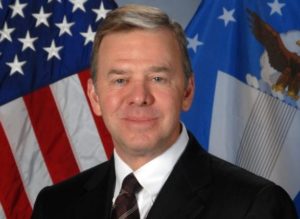 volved in implementing the "Space Enterprise Vision" (SEV) set by Space Command chief Gen. John Hyten. Tarleton will continue in that work when Hyten leaves to take over Strategic Command on November 3. The SEV is a holistic approach to space as an enterprise. Much of it is focused on system resilience. "We have to look at being able to not only provide our future systems, but build in resilience we need as the adversaries get better and better in disrupting our systems," Tarleton said in an
August 16 article in C4ISRNET
. "And, then, on the wideband side, we're setting up for the architecture that will come out of the wideband analysis of alternatives (AoA). So those are two … big challenges, I would say that we need to meet as we go, that we're facing in the next couple of years." Tarleton, a systems engineering, software and program manager by trade, has moved back and forth between defense and civilian contractor roles, primarily for the Navy. He came to the Air Force in his present position in 2014. His directorate is doing similar work to that of industry in trying to strengthen satellite resilience. Because the military takes longer to develop and launch satellites than does industry, the resilience job is slightly different. "It's one thing to plan for building in additional resilience into future systems, but trying to add resilience to these current programs while they're in development, while they're in production or while they're on orbit has been a bit of a challenge," Tarleton said. "We've come up with some pretty good ideas that will help make the current systems a little bit more resilient." Among those ideas are the Protected Tactical Waveform (PTW) and anti-jam protection for the Wideband Global SATCOM system, which is near the end of its second decade since development and has seven platforms in orbit. Intelsat's EpicNG high-throughput satellites, the first two of which launched this year, have similar protection and are compatible with the U.S. Air Force's PTW. They were three years from development to deployment. The timeline for military satellite development vs. that of industry is an element that will be considered in the wideband Analysis of Alternatives (AoA), due to be complete next year. Among the alternatives: commercializing some of the WGS satellites' options by the mid-2020s. "What is the proper mix of WGS and commercial SATCOM? We really haven't looked at that in terms of considering a combined architecture," Tarleton said in a
March 4 article in C4ISRNET
. The government spends about $1 billion a year on commercial bandwidth to supplement WGS. Defense is also responsible for most upgrades and maintenance on the constellation.
"This is where our commercial SATCOM comes into play," Tarleton said. "The technology there and the upgrades to technology are so much faster than what we have been able to do in DoD."
In addition to examining how to better use commercial technology, the AoA could consider transferring operation, control and maintenance from the Air Force Satellite Control Network to industry while keeping key command and control elements under military management.
Tarleton also owns "a piece of" Pathfinder I, a project to evaluate the potential of military part-ownership of commercial satellites as a cost-saving device. The purchase could save the military about 80 percent of the cost of leasing satellite service, Tarleton said, adding "we could (also) influence the design to a degree."
Industry would like to be able to reciprocate. As new military satellite systems are conceived, "at the top of the list, we are saying: Include us in the design of the architecture," Skot Butler, president of Intelsat General Corp., told C4ISRNET. It's the way to accommodate a Pentagon request for more industry investment in satellites the military can use.
Related Posts