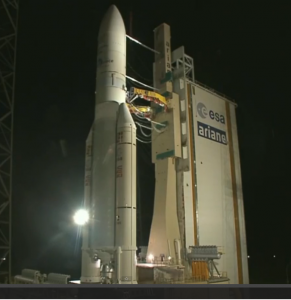 With a thunderous roar, Intelsat 33e, the second of seven planned Intelsat EpicNG high-throughput satellites (HTS), was
launched successfully last night
from French Guiana aboard an Ariane 5 launch vehicle. Liftoff occurred at 22:16 pm GMT. The Intelsat 33e satellite separated from the rocket's upper stage and signal acquisition has been confirmed. Intelsat 33e will bring HTS capacity in both C- and Ku-band to the Africa, Europe, Middle East and Asia regions from an orbital slot at 60°E. The satellite will join Intelsat 29e, the first Intelsat EpicNG satellite, which was launched in January 2016 to serve the Americas and North Atlantic Ocean regions, to form a high-throughput overlay to Intelsat's global fleet of enterprise-grade, wide-beam satellites. Intelsat 33e is equipped with the most advanced digital payload on a commercial spacecraft. This payload allows connectivities in any bandwidth increment from any beam to any beam. This attribute enables independent frequency selection of the uplink and downlink. Combined, these features provide unprecedented adaptability for a customer's network configuration and topology, allowing customers to leverage installed hardware and to operate mixed spectrum networks. In terms of throughput, Intelsat Epic
NG
will enable existing Predator, Gray Eagle and Reaper ISR platforms, for example, to deliver SATCOM data rates of up to 50 Mbps. But it's not just the incredible throughput that makes Intelsat Epic
NG
attractive for our customers. Some upcoming HTS platforms were designed with closed architectures, limiting the users' choice of antenna/modem combinations and teleport locations. Intelsat Epic
NG
is an open system which means that users can choose their preferred ground equipment, whether that's an installed base or a new deployment. The ability to use existing ground equipment in open systems can lead to substantial cost savings for the customer. For military customers in particular, they can leverage the Ku-band antenna/modem infrastructure already in place for existing RPAs and UAVs. This ability to use current ground equipment leads to substantial cost savings for the government, and can be leveraged in many ISR applications to support newer, smaller footprint operations that do not require on-site ground control stations.
"
The digital payload technology of Intelsat EpicNG, combined with the open architecture spot beam design we're introducing to the commercial marketplace will be a game-changer," said Skot Butler, President of Intelsat General. "From filtering out interference, to massive throughput increases for existing platforms, to enabling a whole new class of small, flat panel user antennas, we are delivering performance only dreamed about a few years ago. And the technological innovation is always advancing — each EpicNG satellite will be more capable than the previous one. It's exciting to see the powerful new technology coming down the pike with each design enhancement." Companies are signing on for the carrier-grade HTS services and broadband for applications such as enterprise, aeronautical and maritime mobility that the Intelsat 33e payload will deliver. Companies such as EMC, Gogo, Harris CapRock,
KVH
,
Marlink
, Panasonic Avionics, Romantis, Supernet, and Television and Radio Broadcasting Network of Armenia (TRBNA), will be among the first to deploy services on the platform. Space is increasingly a contested theater of operations. Using the Intelsat EpicNG platform will be an important piece of our customers' response to this new reality, as it looks to better leverage the technological innovation of the commercial space industry.
Related Posts