Speed Is Answer to Air Force Concern About the Future in Space
June 23, 2016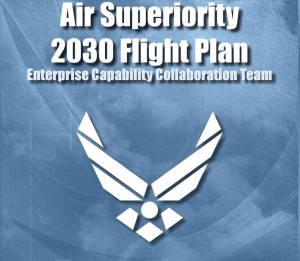 The Air Force Air Superiority 2030 Flight Plan is about speed, but not necessarily measured in terms of exceeding the sound barrier.
It's about how fast potential adversaries are closing in on Air Force capabilities which have allowed the United States to maintain air superiority for decades. The plan defines air superiority as being achieved "when friendly operations are able to proceed without prohibitive interference from opposing forces."
The report cites the glacial government procurement process and monolithic programs of record as hindering the Air Force's ability to take advantage of new technologies across the air, space and cyber domains.
The flight plan goes on to add, starkly, that "the Air Force's projected force structure in 2030 is not capable of fighting and winning against this array of potential adversary capabilities."
To remedy that, procurement and technology development must get faster, said the Air Force Enterprise Capability Collaboration Team (ECCT), which authored the plan at the direction of the Air Force Chief of Staff.
The plan says that finding technical answers is simple enough, but this must be accompanied by a changed culture that accepts the answers and uses them to forge the future.
"There's no silver bullet," said Col. Alexus Grynkewich, the ECCT lead, in an Air Force news release. "Engines take a long time to make, but information age tech cycles are fast. Software updates are constantly moving. So how do you move from pacing yourself off industrial-age mindsets to information-age mindsets?"
This is a plea that industry – and particularly commercial space — has made since military research and development money began to dry up in the face of federal budgetary contraction. Industry has sped past the military, taking the lead in satellite technology development. Where once government-developed technology was spun off to meet commercial needs, the converse is increasingly true.
Taking decades to develop airplanes through programs of record has inhibited technology innovation that could make the aircraft more effective.
That should end, Grynkewich said. The ECCT advocates for parallel development of field needs and technologies such as sensors, mission systems, lethality and non-kinetic devices to meet those needs. When a technology is considered ready, it should be built it into a prototype and tested much more rapidly than happens today.
That's what industry has been doing for years. It's the innovation behind the new high-throughput satellite platform Intelsat EpicNG, the first spacecraft of which was launched in January, with another due in August. It's how the commercial satellite industry is developing more resilient and capable platforms that the Air Force can and should take advantage of to assure continued technological advantage in theater.
With increasing demand to address multi-domain conflict, "air superiority capability development requires adaptable, affordable and agile processes with increasing collaboration between science & technology, acquisition, requirements and industry professionals," the plan said. "Failure to adopt agile acquisition approaches is not an option."
That includes acquisitions that are hindered because they are not built into programs of record.
For example, when addressing the military's difficulty coming to grips with opportunities stemming from hosted payloads, "the DoD program office's hands are tied because the hosted payload is not part of the overall architecture or program," says an Intelsat General SatCom Frontier blog post earlier this year. "This is a cultural barrier that could be solved by making hosted payloads part of the options on a prime contract and incentivizing [Program Executive Officers] to look for cost-effective solutions that meet mission needs throughout the life cycle."
Including industry in architectural development also could have long-term impact on speed of technology delivery.
"We've talked about acquisition agility a number of times in terms of, "How do we save money,' and not wasting taxpayer dollars is absolutely important" Grynkewich said. "But there's an operation imperative that says we have to do this faster, and if we don't, we're at risk of failing as an Air Force and a joint force."