Special Operations and ISR – An Inseparable Pair
June 02, 2016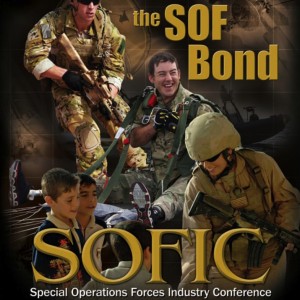 The latest in special operations strategy and technology were on display last week at the 2016 Special Operations Forces Industry Conference (SOFIC). Held in Tampa, Florida, the overall theme of the event was "Evolving the Network to Counter Emerging Threats." This made perfect sense, considering the degree to which effective special operations depends on maintaining superior intelligence, surveillance and reconnaissance (ISR).
According to the new leader of U.S. Special Operations Command, situational awareness will soon be even more vital for mission success. A recent article quoted General Raymond "Tony" Thomas about getting to what he calls "left of bang," meaning a proactive force that is already in position before trouble strikes:
"It is in the area of left of bang where we must strive to be more relevant in the future," he said.
The vast majority of U.S. military ISR data around the globe is carried over commercial satellite networks. So a focus on evolving the network for special operations must include a multi-year approach that anticipates increased bandwidth needs and constant technological innovation.
For example, special operations planners are increasingly interested in very small UAVs, known as Class III, for tactical ISR. These UAVs can add great flexibility to missions by not requiring a runway, and being retrievable via a net or rope. Obviously the antennas on such UAVs need to be very small. In the past, this would have severely restricted the bandwidth capabilities of such devices.
The new Intelsat EpicNG high-throughput satellite (HTS) platform changes that dynamic. EpicNG provides dramatically greater performance for Class III UAVs, allowing much greater bandwidth using smaller antennas than in the past. EpicNG enables throughput about 10 times that of traditional satellites.
Intelsat EpicNG also provides for more secure satellite connectivity. That was another prominent discussion point during the SOFIC show. In the article, Tony Davis, SOCOM's science and technology director, talked about how potential adversaries are working hard to overcome the current advantage enjoyed by U.S. forces:
"The command has also been looking at technologies that near-peer competitors are developing which could threaten U.S. commandos' ability to fight effectively. To thwart advanced adversaries, SOCOM needs defensive capabilities to operate on battlefields where cyber and electronic warfare tools are part of the enemy's arsenal."  
 Protected tactical waveform (PTW) is one way to counter these emerging jamming efforts.
PTW will provide cost effective, protected communications over both government and commercial satellites. Combined with new HTS advances, PTW will deliver broader protection, more resiliency, more throughput and more efficient utilization of satellite bandwidth. IGC plans to use PTW over steerable Ku spot beams on EpicNG satellites to support continued tactical ISR supremacy.
In an age of asymmetric warfare, special operations will become increasingly prevalent. Superior ISR is a prerequisite for mission success, and that ISR is supported by the consistent technological advancements made by the commercial satellite industry.