Severe-Storm Ready: Intelsat is Here to Help
June 01, 2021
Intelsat is ready with emergency satellite communications services as the 2021 hurricane season starts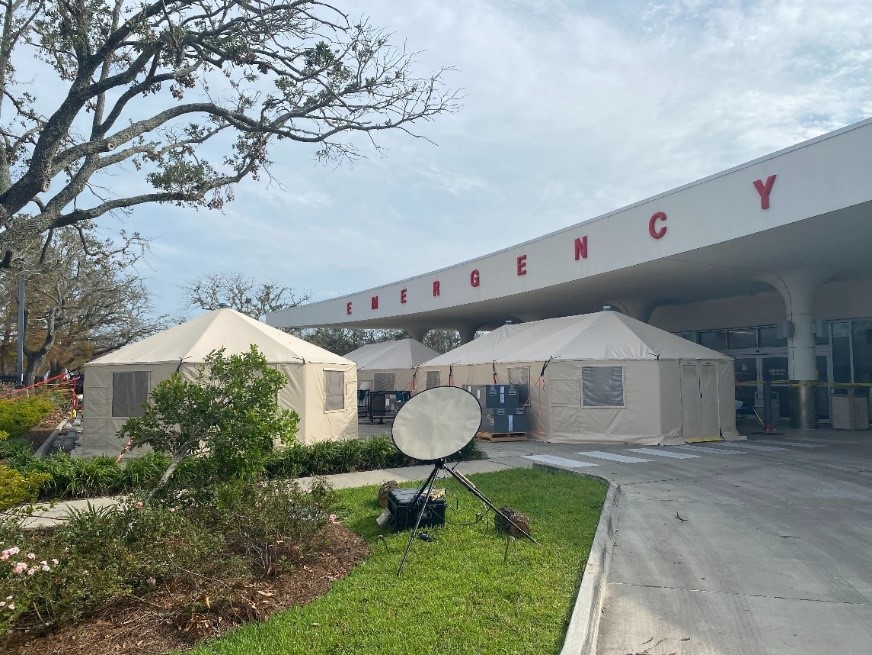 The National Oceanic and Atmospheric Administration (NOAA) recently released its 2021 Atlantic hurricane season forecast, predicting an active storm season with a 60% chance of an above-normal number of named storms.
NOAA says there is a possibility for 13 to 20 named storms – with six to 10 of those likely to become hurricanes. Of those, three to five could become Category 3 or higher.
No matter what the weather brings this hurricane season, Intelsat is prepared to deliver critical connectivity to first responders and emergency personnel in storm-impacted areas.
Satellite's Unique Role in Disaster Response and Recovery
In the wake of any kind of natural disaster, it's essential that first responders and emergency personnel can quickly communicate about the conditions and needs on the ground. Satellite technology provides a critical lifeline when storms damage or destroy the existing terrestrial communications infrastructure.
Recent advances in satellite hardware have also made it possible to easily deploy small, lightweight satellite terminals to an impacted area. In addition to being more mobile, these user-friendly terminals are easy to connect to a satellite network – no advanced technical training required.
A History of Supporting Disaster Recovery
Intelsat has a history of leveraging its advanced global satellite network, easy-to-deploy managed solutions and hardware partnerships to provide satcom services for disaster-response efforts.
Intelsat is actively pioneering the land-mobile satellite connectivity market with a host of hardware and service partners. As a result, humanitarian and emergency response vehicles, as well as other Communications-on-the-Move (COTM) applications, are now able to stay seamlessly connected to Intelsat's global network wherever they go.
Intelsat is also signatory of the 2019 International Telecommunications Union (ITU) Crisis Connectivity Charter, a mechanism created between the satellite industry and the wider humanitarian community to make affordable satellite-based communications more readily available in times of disaster. In 2021, Intelsat will chair the Crisis Connectivity Charter, helping to connect signatories to humanitarian-support opportunities.
Recent Examples of Intelsat's Disaster Recovery Support
In August 2020, after Hurricane Laura made landfall as a Category 4 storm on the U.S. Gulf Coast, Intelsat General Communications (IGC) and its customer Cubic sprang into action, providing critical internet connectivity to first responders and residents in Lake Charles, Louisiana for eight days while their traditional, terrestrial communications infrastructure was offline.
Cubic deployed its GATR inflatable, ultra-portable satellite antennas and the GATR 950 modem – powered by Intelsat's FlexMove for Government service – to several different sites in the Lake Charles area, providing communications infrastructure support to Lake Charles Memorial Hospital and a Red Cross site enabling internet access to help residents call home and use instant messaging. The connectivity was also used for coordination between other Red Cross distribution points throughout the area.
Global Relief Efforts
Our disaster relief efforts don't stop in North America.
When Cyclone Harold hit the remote island of Vanuatu in the Solomon Islands last April, Intelsat was there to provide much-needed communication relief.
The cyclone made landfall as a Category 5 storm, the second strongest tropical cyclone to ever hit the country. The storm caused extensive damage destroying communication networks, broadcast radio and television infrastructure, and power.
Intelsat, as part of its work with the ITU, donated capacity to Vanuatu on Intelsat 18's South Hemi beam. This vital communication support helped connect the islands to the mainland areas, enabling families to get in touch with their loved ones and spur support for additional post-storm efforts.
When severe weather strikes, Intelsat is ready with the critical connectivity technology that first responders and impacted communities need. To learn more about the communications support and relief that Intelsat can provide during natural disasters or other crises, visit www.intelsat.com/resources/blog/how-emergency-responders-can-leverage-affordable-high-speed-communications-when-disaster-strikes/.