Sanchez' Mission: Implement Science and Technology Goals for Space Command
September 22, 2016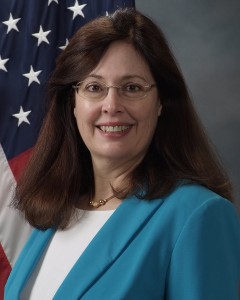 As part of a continuing exchange between the military and the commercial space industry working together, Space Command leader Gen. John Hyten outlined his science and technology goals in a February memo to his staff that was made public.
"I call [the memo] our crystal ball so industry and academia have a little bit better idea of what we think our technology challenges over the next 10 to 30 years are going to be," Dr. Merri Sanchez, Chief Scientist of Space Command, said in an interview with Space News at the Space and Missile Symposium in August.
"They can look and see what their core capabilities are and what research they might want to focus on," added Sanchez, who is charged with implementing Hyten's goals. "The thought is that it would help them make informed decisions on their investments."
Sanchez came to the job in June 2014 after a career that included 28 years with NASA. She took a step toward the military with a year as NASA's liaison to the Department of Defense Operationally Responsive Space Office, then moved to Space Command after four years working in industry.
As chief scientist, she is charged with being the Commander's primary advisor on space and cyberspace science and technology programs and she has the authority to guide those programs within Space Command.
Hyten and Sanchez are looking for tools to use in fulfilling Space Command's mission to support the warfighter and seeking ways to operate more effectively in the increasingly congested and contested space environment.
The adoption of advanced technology is further along in Space, where sensors produce burgeoning amounts of data, and where new high-throughput satellites have the capacity and flexibility  available to carry it.
The picture is different on the ground, where systems struggle with large amounts of data. In a conversation with C4ISR and Networks, Sanchez outlined an idea to use artificial intelligence in analytics to process the growing data supply from space-based sensors and from remotely piloted aircraft more quickly. The goal is to have more actionable and easily usable intelligence for decision-making at both the Joint Interagency Combined Space Operations Center (JICSpOC) and Joint Space Operations Center (JSPoC).
"One of the things we heard is that when you have a cyber team or network team, how do you display that information so that they can intuitively determine courses of action?" Sanchez said. "You don't want them looking at a spreadsheet full of numbers because the human mind reacts better to data visualization. It's the space and cyber side."
By using machines more efficiently in processing data, the human decision-maker can make an analysis more quickly. That's increasingly valuable in a decreasing timeframe in which critical decisions must be made.
Space Command also is looking for satellites that are smarter in determining the difference between attacks and malfunctions, and at "self-healing satellites," Sanchez said. The satellite would sense an anomaly and re-route the needed capability to maintain functionality as an element of resilience.
To a large extent, some of that is being done by commercial satellite fleets today.  The digital payload on the new Intelsat EpicNG satellites, for example, provides added security and anti-jam capabilities, and the spot-beam architecture limits the area from which a jammer can be effective.
Space Command is more open to using commercial technology to develop solutions for these problems. What industry needs is clear communication regarding what the Air Force is trying to accomplish in space. That way, industry knows where investment should be directed.
"One of the things I noticed with industry is you were always wanting to know what the future was, where you should do you investments and your internal research and development, and you always wanted a sense of where the government might be going," Sanchez told Space News. "Industry does long-term strategic planning for their investments all the time on a natural year-to-year cycle, and we thought we would just tap into that by providing them a crystal ball. It's our guidance."
It's this kind of government-industry collaboration that the commercial space industry continues to be excited about. It's a partnership that will help meet the goals Hyten has outlined, and that Dr. Sanchez is trying to implement.