Rep. Bridenstine's 'Space Renaissance' Bill Would Join Industry, Military in Space Security Future
April 21, 2016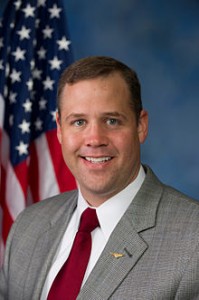 After years of give and take among military and commercial space interests to better advance U.S. security, Rep. Jim Bridenstine (R-Okla.) authored the American Space Renaissance Act to do just that.
His background puts him in a rare position to champion both.
"As a military pilot, I can attest that our national security and our very way of life require both military and commercial space capabilities," said Bridenstine, 40, who began his naval career flying the E-2C Hawkeye off the USS Abraham Lincoln aircraft carrier. In 2010 he was promoted to the rank of Lieutenant Commander in the Navy Reserve, and was most recently transitioned to the 137th Air Refueling Wing of the Oklahoma Air National Guard.
Bridenstine's bill would require the Government Accountability Office to oversee an upcoming Air Force Wideband Analysis of Alternatives (AoA) to ensure commercial SATCOM is included fairly (including realistic price comparisons for both bandwidth and services) in a list of options. The AoA is important to the Air Force because it will guide the future solicitation of commercial satellite services, saving them money, and ensuring that future commercial satellites will include capabilities that may be unique to the U.S. DoD.
In announcing his bill at the 32nd Space Symposium in Colorado Springs on April 12, Bridenstine said the DoD had told lawmakers that commercial bandwidth was much more costly than that provided by the military. "I don't believe it," he told Defense Daily later. "I don't think we're getting an apples-to-apples comparison. I think we need an outside party to look at the comparison and give Congress a different perspective."
There are many reasons such SATCOM cost comparisons are often inaccurate. Bridenstine wants the DoD to include industry in architecture development, which companies have long favored. Doing so could help plan a future that supports and enhances military and commercial interests in a space environment that the military says is becoming increasingly conflicted and competitive.
"Our space architectures must be resilient and our national security terrestrial systems must be interoperable with both military and commercial space systems," Bridenstine said in a website developed to explain the legislation. "We must be able to deter attacks, defend government and commercial assets, and defeat threats when necessary."
The American Space Renaissance Act also includes moving commercial space situational awareness monitoring from the military to a civilian agency – likely the Federal Aviation Administration. In a February 2 panel discussion in Washington, industry volunteered to help via the Space Data Association.
Air Force Gen. John Hyten, who heads U.S. Space Command, chimed in his approval of that element of Bridenstine's legislation.
"I would prefer that I take the airmen today that are doing basically collision avoidance and orbital analysis across the board for everybody else, and if somebody else could do that and I could focus those airmen on other missions, I'd be much happier," he said. "We shouldn't be doing flight safety for everybody in the world. We should be focused on missions for the Department of Defense."
Bridenstine acknowledged that his far-reaching legislation will not be adopted as written.
"This bill will serve as a repository for the best space reform ideas," he said. "Many of its policies can be inserted into other bills that will pass."
A provision to insert the GAO into the upcoming Air Force Wideband AoA would be a good start for both the military and commercial interests. In announcing his bill at the Space Symposium, Bridenstine offered a historical perspective.
"Friends, this is our Sputnik moment," he said, referencing the Oct. 4, 1957, launch of the Earth's first artificial satellite, the only time the U.S. has trailed in space technology. "America must forever be the preeminent spacefaring nation."
Bridenstine then moved the conversation into the present and advocated for a different future, one of partnerships.
"As we work to ensure space security, commercial enterprise can continue to launch generational leaps in space technology, benefiting humanity and reducing government costs," he said. "Our regulatory framework must minimize burdens while maximizing certainty. Our civil and defense space enterprises must not compete with the private sector, but enable domestic, commercial launch and space capabilities."
We couldn't agree more with that sentiment, and hope this legislation finds a favorable reception.