Relief for Kentucky: Intelsat and Partners Provide Broadband for Tornado Victims
December 22, 2021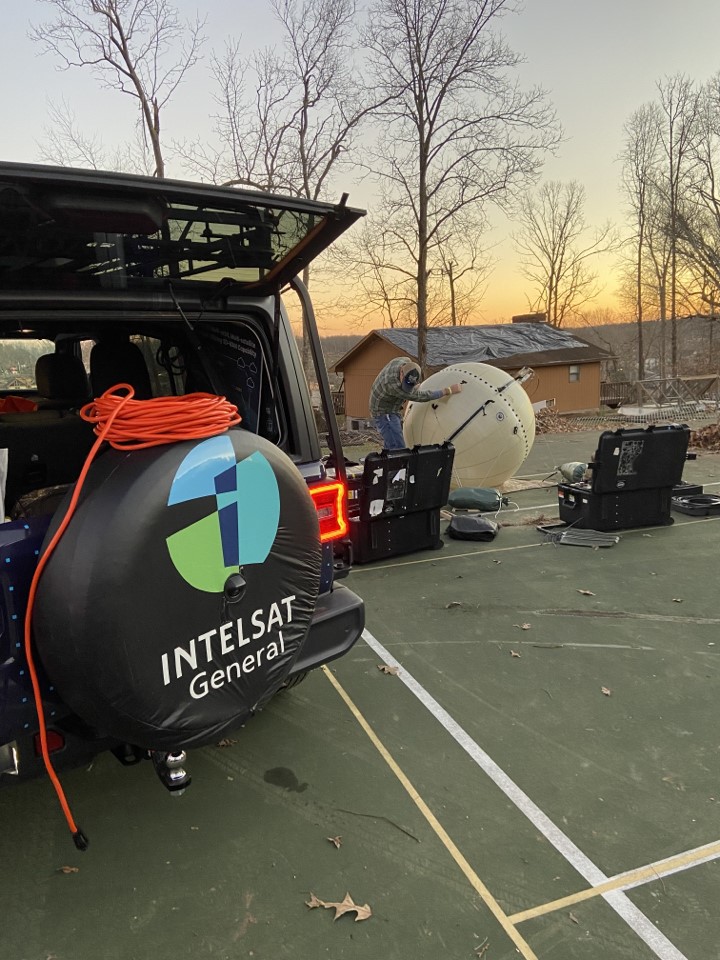 As clean-up continues across tornado-ravaged parts of Kentucky, the Disaster Immediate Response Team from Help.NGO (GlobalDIRT) requested help from the Intelsat Disaster Response Team in setting up emergency internet connectivity.
At least five tornadoes hit Kentucky on Dec. 10, traveling more than 200 miles across the state, leaving a path of death and devastation.
The storm killed 76 people in the state, many were reported missing and infrastructure of all types from electricity to mobile and internet communication was obliterated.
Scott Walters with Intelsat Disaster Response Team traveled from Intelsat's teleport in Hagerstown, Maryland to Western Kentucky in an SUV equipped with two Kymeta Communications on the Move (COTM) Terminals as well as a Satcube Communications on the Pause (COTP) terminal and Cubic GATR Inflatable Satellite Antenna (ISA), all connected to the FlexMove network providing internet connectivity for folks in areas experiencing 100% loss of communication infrastructure.
In Gilbertsville, KY, Intelsat, and partners immediately established temporary communications on-site for first responders and search and rescue teams. This enabled folks to communicate back to the regional emergency operations center (EOC) while additional resources were brought in to fully restore communications and line up other essential needs.
The team also set up at a nearby campground where hundreds of area residents were able to connect their devices to broadband, reaching out to loved ones as well as insurance, banking, and health care providers to begin the lengthy process of putting their lives back together.
"My heart goes out to the folks of Kentucky," said Scott Walters, Intelsat senior sales director and member of the disaster response team. "To see the devastation in person was heartbreaking and overwhelming. Intelsat is devoted to helping connect people to mobile and broadband services at all times, good and bad. The company is glad we could contribute to help families put their lives back in order."
"We've leveraged support from Intelsat over the past decade because we know the solution will work and provide the connectivity, we need to help others, the flexibility that the service provides allows us to rapidly deploy terminals whenever and wherever needed," said
Adam Marlatt, operations director, Help.NGO.
The National Weather Service has confirmed the catastrophic tornados registered between EF3 and EF4, but have cautioned those ratings could change.
Intelsat had previously supported Help.NGO after the earthquakes in Haiti by sending terminals and FlexMove services to the team. For this request, the decision was made to go to the area and assist in person.
To learn more about the Intelsat Disaster Response Team missions, click here.
Humanitarian organizations can apply for support by contacting [email protected].