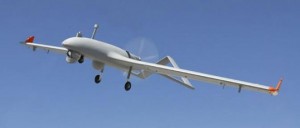 Just as Intelsat is launching its new generation of
Intelsat EpicNG
high-throughput satellites, a new type of small remotely piloted aircraft (sUAS) is being outfitted with beyond-line-of-sight SATCOM systems that are ideally suited to Epic
NG
spot-beam capabilities. Known as Class III RPAs, these aircraft are often small enough to fit into a small shipping container. With such portability, they could be used by federal, state and local government officials across a range of non-military applications, including search and rescue, infrastructure monitoring, traffic accident investigation, border security, anti-poaching operations, forest fire suppression and agricultural monitoring. For many years, larger RPAs like Northrop Grumman's Global Hawk and General Atomic's Predator have been used for operations ranging from
weather data collection
for NOAA to maritime monitoring. Once they are airborne, pilots in one location usually fly these aircraft from thousands of miles away using signals from wide-band satellites with large geographic coverage areas. But the smaller Class III UAS' have a much shorter range and are suited for beyond-line-of-sight (BLOS) activities much nearer the operators on the ground relying on the in-flight data for decision-making. The aircraft's entire flight could be controlled within the minimum 640-mile circle of a powerful spot beam from a single Intelsat Epic
NG
satellite. Government agencies may have irregular requirements for their Class III RPAs, needing flexibility in where and when they deploy. This type of service is well suited to IntelsatOne Flex, a new managed service that gives customers the flexibility to respond to surges in demand and shifts in geographic coverage under a predictable cost structure. IntelsatOne Flex will be available across much of the globe in October, beginning with the launch of the first Epic
NG
satellites, IS 29e and IS-33e as a way to streamline the management of capacity while providing flexibility across a region Pairing this usage flexibility with the portability of Class III RPAs opens a range of new capabilities to government agencies in need of real-time information for decision-making. Some examples of how they could be used include:
Search and rescue – in the aftermath of an earthquake or hurricane, real-time images from a camera in the sky would give first-responders quick insight into where to deploy resources. Utilities would also get valuable information to help dispatch repair crews.
Fire – the drought in the western United States has led to a sharp increase in the severity of forest fires. RPAs could tell ground crews where a fire is headed and where additional suppression could be most effective.
Agriculture – Small RPAs equipped with the proper sensors could be used to monitor crop growth, determine irrigation needs, and inspect for disease or harmful insects.
Environment – Small RPAs can fly lower and slower than manned aircraft, and make much less noise, making them suited for wildlife monitoring, anti-poaching operations and forest management.
Law enforcement – For federal border patrol or state and local policing, the real-time situational awareness offered by small RPAs help make more effective use of personnel resources. The aircraft can assist in crowd monitoring, accident investigation, suspect apprehension and a range of other activities.
RPA manufacturers and the satellite industry are exploring several service models to help governments benefit from this new generation of RPAs. Tight budgets and a lack of trained personnel could limit the ability of these governments to deploy these small, unmanned aircraft. However, a managed service model that brought together the aircraft manufacturers for the hardware and companies like Intelsat General for the network management, thereby substantially reducing costs, could create a path for deployment of these aircraft by local governments. The Federal Aviation Administration, which controls U.S. airspace and regulates unmanned aircraft, has special provisions that allow government agencies to receive approval to fly RPAs. The regulations currently limit nighttime use, but the rules are under review as new technologies open up new opportunities to benefit from the capabilities of these aircraft. By using a managed service model under IntelsatOne Flex, these governments can begin to take advantage of this technology and find that deploying the new Class III RPAs is within their budget.
Related Posts