New and Better SatCom Options Meet Demanding Connectivity Requirements for Helicopters
February 08, 2018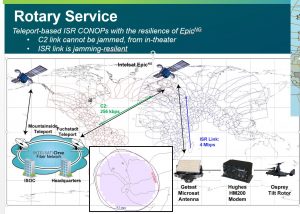 Recognizing the unique capabilities of helicopters for a wide range of missions, U.S. and foreign governments are actively procuring new aircraft or refreshing their existing fleets. As they rely on these assets for a variety of operations spanning both civilian and military applications, in contested areas, providing broadband connectivity with anti-jamming capabilities becomes increasingly important.
The unique ability of rotary platforms to take off and land vertically is of immense value for a variety of operations, as it eliminates the need for a runway. These platforms have proven highly versatile and are being deployed across a variety of operations such as special operations support/transport, MEDEVAC, combat search-and-rescue, ISR, and VIP transport. However, providing an uninterrupted satellite link to a helicopter has long been a technical challenge because the spinning rotor blades interfere with the satellite communications link.
Broadband connectivity for voice, video and data to these platforms has traditionally been provided with a line-of-sight (LOS) service using antennas below the rotor blades. But as helicopters are deployed in conflicts and emergencies around the globe, LOS can no longer satisfy demands for connectivity. Before launching an operation, the hub infrastructure must be set up on the ground, and that takes planning, logistics, and deployment-time. As a result, LOS broadband service negates rotary's value of being able to get in and out of contested areas quickly.
A better option is a centralized, teleport-based service that connects directly to the rotary platform via satellite and allows for operations beyond LOS. Such a connection is essential to take advantage of the high data-rate (HDR) sensors onboard rotary platforms for special operations and armed ISR missions. These HDR sensors process situational awareness and relay it back to the command posts. When these HDR sensor-carrying rotary platforms connect to the satellite using new through-the-rotor waveforms, command posts can avail of situational awareness at the highest data rate that the ISR link can support.
Intelsat General's rotary service meets the broadband performance needs of the ISR link and also offers the unique capabilities of the Intelsat EpicNG constellation to provide a C2 link that is jam-proof (from in-theater interference) and a multi-Mbps ISR link that is jamming-resilient.
The virtually jam-proof C2 link is achieved with a digital payload that separates the satellite beam carrying a signal to the rotary platform from a different spot beam linked to the teleport. This separation is typical of high-throughput satellites. The digital payload on the satellite assures that only designated beams, with frequency bands carrying authorized signals, are cross-connected. Any interfering signals are muted out, analyzed and mitigated.
By actively providing a centralized service architecture, and addressing the need to prevent interference to ensure mission success, Intelsat General provides the best level of broadband connectivity to meet the increasing demands of rotary platforms. We expect to see new applications emerge as these capabilities become more widespread.
Learn more about Intelsat 29e Interference Mitigation.