Military Defense Market Faces New Challenges to Acquiring Satcom
November 20, 2017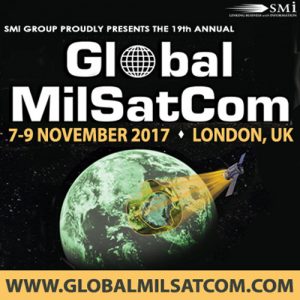 With high-throughput satellites covering 99% of the populated regions of the world, commercial satellite providers like Intelsat General are ready and willing to serve the growing bandwidth needs of the military defense market. But there's a catch. At the Global MilsatCom conference held earlier this month in London, new acquisition challenges came to light: Countries are still trying to figure out what they need and how they'll get it.
In the military, "they want video everywhere, and they want it to be high definition," Intelsat General President Skot Butler told SpaceNews.
However, supply has been an issue in the past. "With forces deployed around the world, it seemed there was never enough bandwidth to stream live video and fly surveillance drones over war zones," writes Sandra Erwin in another recent SpaceNews article.
Now, according to Christopher Baugh, president of Northern Sky Research, "There are orders of magnitude more supply coming." Baugh estimates that satellite service providers will generate 7 terabits of capacity by 2026—eliminating the issue of supply.
With 50 spacecraft, Intelsat operates one of the world's largest satellite fleets in operation today, and is currently in the process of building the last in a constellation of six HTS satellites. The resulting Intelsat EpicNG network can provide between 200 and 300 percent more throughput than existing wideband satellites, which comprise the U.S. government's own satcom constellation. In addition to performance improvement and security enhancements, the increased power of these high-throughput satellites has resulted in a lower cost per bit to the end user.
"The cost of satellite communications has dropped in recent years, and over the next six to 12 months could dip further, according to Baugh, from 3 percent to 20 percent, depending on the applications," writes Erwin.
Market developments have thus mitigated challenges related to cost and availability. Now it's up to military defense organizations to determine their requirements and to better define a procurement process for getting those requirements met by—in many cases—commercial providers. That's easier said than done.
The U.S. Department of Defense is currently undergoing a Wideband Communications Services Analysis of Alternatives to identify some of those answers. The outcome, according to Butler, will likely be a "hybrid" setup comprised of both government-owned and commercial satellites. Ideally, the Department of Defense uses commercial systems for the vast majority of its communications and reserves government-owned satellite services for high-security applications. "If… they put their enduring requirements on commercial, they could build fewer of their own satellites," Butler said.
Meanwhile, the Air Force Space and Missile Systems Center is working on pilot programs to try different procurement approaches, but the programs will finish after the wideband study, making it difficult to apply the insights gleaned from the pilot projects. "They may not take advantage of what they learn," Butler said.
Procurement is only part of the challenge. Understanding a diverse range of needs that are likely to change is also a challenge. Case in point: The U.S. Special Operations Command (SOCOM) now flies small unmanned aircraft systems (UAS) equipped with wideband terminals, something that until recently only large unmanned aircraft could handle due to the weight of the terminals. The vast technological advances in mobile antenna technology has made this possible. There are also security and interoperability requirements.
At the Global MilsatCom conference, General Sir Chris Deverell, British General Commander of Joint Forces Command, also highlighted security and interoperability requirements: "As we develop the next generation of Skynet, we will ensure it is as interoperable as possible with U.S. and allied systems. This will be made possible by the framework provided by the Combined Space Operations initiative, through which we are seeking a safe, secure and resilient space environment."
It would be more efficient and cost-effective for the DoD to plan for commercial satcom capacity ahead of time. The concern for commercial satellite providers, Butler said, is that "commercial is actually designed into the architecture rather than treated as an afterthought, purchased on the spot market."
That, of course, falls to the military defense organizations. For their part, satellite providers have service offerings that give customers the flexibility to respond to fluctuating demand and shifts in geographic coverage with a predictable cost structure. Satcom as a Service, available through offerings such as IntelsatOne Flex, enables government organizations to benefit from the technological advances of HTS as they meet accelerating bandwidth demands.
Government satcom requirements will continue to change as technology evolves. Just as SOCOM had little way of knowing five years ago that a six-inch flat panel terminal would be piping live video from class III UAS, there's no way to know what military bandwidth needs will be five years from now. Despite the uncertainty expressed at the Global Milsatcom conference, we are confident that by working with commercial satcom providers, military defense organizations can get the solutions they need.