Jim Bridenstine Brings Understanding of Commercial Technology to His New Role as NASA Administrator
April 25, 2018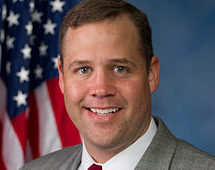 The recent Senate confirmation of Rep. Jim Bridenstine as NASA's 13th administrator bodes well for a fresh perspective that can benefit both the agency and commercial space industry. As the representative for Oklahoma's first congressional district, Bridenstine is the first elected official to head the nation's space agency. Since coming to congress in 2013, Bridenstine took a keen interest in shifting government policy more towards using commercial satellite technology, and that approach will likely guide him as he begins to manage NASA.
Bridenstine is a military pilot who began his naval career flying the E-2C Hawkeye off the USS Abraham Lincoln aircraft carrier. In 2010 he was promoted to the rank of Lieutenant Commander in the Navy Reserve, and most recently transitioned to the 137th Air Refueling Wing of the Oklahoma Air National Guard. He has also served as the Executive Director of the Tulsa Air and Space Museum & Planetarium.
Bridenstine was confirmed by a 50-49 party-line vote to lead NASA following months of contention over his qualifications and political views. Bridenstine replaces Robert Lightfoot Jr., who temporarily filled the role since the previous administrator, Charles F. Bolden Jr., stepped down on Jan. 20, 2017. This is the longest time NASA has been without a permanent leader.
As a Congressman, Bridenstine built a record of emphasizing the value that commercial satellite service providers can bring to government projects. In 2014, he pushed for the U.S. government to outsource the collection of weather data to commercial satellite operators. He has also advocated for the Federal Aviation Administration to take more of a leadership role in space traffic management, working closely with the commercial space industry. Intelsat General was recently awarded a new task order by the FAA to develop and operate a hosted payload to aid in aircraft navigation.
In a speech given to the Washington Space Business Roundtable in 2014, he said:
"We need to move from the government owning and operating huge satellites to a day when the government can purchase data from private satellite operators. The historic government monopoly of weather satellites, and associated data, is now at the point of creating unnecessary costs, delays and risks that could dramatically degrade U.S. weather forecasting."
More recently, Bridenstine authored the American Space Renaissance Act. His bill did not reach a vote, but some of the ideas were incorporated into other legislation, including an Air Force Wideband Analysis of Alternatives. The AoA seeks to ensure that commercial SATCOM is included in a list of options with realistic price comparisons for bandwidth and services.
"Our space architectures must be resilient, and our national security terrestrial systems must be interoperable with both military and commercial space systems," Bridenstine was quoted as saying in an online article. "We must be able to deter attacks, defend government and commercial assets, and defeat threats when necessary."
We are hopeful that under Bridenstine's leadership, NASA will look to leverage the technological innovation that the commercial satellite industry can provide. Such an approach can help the agency achieve its mission of leading space exploration, scientific discovery and aeronautics research more efficiently and cost effectively.