Is the OneWeb-Intelsat LEO/GEO Network the Answer to Canada's Arctic Needs?
July 26, 2016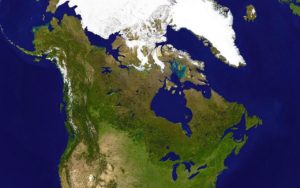 Using the U.S. wideband global satellite (WGS) model, Canada's military plans a two-satellite constellation to fill its communications voids in the remote but fast-changing Arctic, a Canadian official told Space News at the recent MilSatCom USA symposium.
The project is expected to cost $2.4 billion (CDN) and be operational by 2023, Col. Jeff Dooling, director of space requirements for the Canadian Department of National Defense, was quoted as saying. In the interim, Canada is interested in buying into an existing communications constellation, paying between $500 million and $1.5 billion (CDN) for capability as early as 2018.
The timing is fortuitous, both for Canada and OneWeb, an Intelsat General strategic partner through Intelsat's investment in the company. OneWeb and Intelsat have programs underway that could meet or exceed Canadian requirements for consistent communications for its military forces and government agencies, as well as provide connectivity for the country's northern communities and for Arctic science experiments. Canada could save time and money by taking a look.
OneWeb plans a constellation of up to 648 low-Earth Orbit (LEO) satellites, beginning with launches in late 2017. Satellites normally take years to build, but OneWeb plans to use mass production techniques to turn out up to 15 per week in its $85 million Florida plant. The OneWeb constellation is scheduled for 25 incremental launches of 32 to 36 satellites each between 2017-19, in time or ahead of time to satisfy Canada's interim requirements. Other OneWeb satellites will be built as spares, available to launch quickly to replace those with issues in orbit.
Intelsat may control operations of the OneWeb satellites once the platforms are in orbit. Both companies are collaborating on the best approach.
By integrating with the Intelsat EpicNG constellation, OneWeb will become part of the world's first LEO/GEO Ku-band network. The wide-ranging communications capabilities of Intelsat's GEO orbits, along with the anti-jamming and other security capabilities of Intelsat EpicNG, will be combined with the lower latency of OneWeb's LEO satellites, with a global capacity of up to 6 terabits per second.
OneWeb is also expected to have the first satellites to enable high throughput broadband at upper latitudes, including the polar region. That's of particular value to Canada, which sees its communications requirements growing because warming seas are opening ice-free shipping lanes to international traffic during a longer part of the year.
The article also notes that Canada is considering buying into the U.S. Navy's MUOS narrowband communications constellation. This capability could also be accomplished through a commercially hosted payload, much like the Australian Defence Forces (ADF) UHF hosted payload on board our Intelsat-22 satellite. The IS-22 UHF payload provides critical coverage over the Middle East Area of Operations for the ADF.
Diminishing ice also is luring countries such as the U.S., Russia, China, Norway and others to try to exploit potentially lucrative Arctic oil resources. A 2008 U.S. Geological Survey estimates the Arctic to have 90 billion barrels of undiscovered oil and 1,670 trillion cubic feet of natural gas, spread over 25 areas. This is about 13 percent of all of the estimated undiscovered oil in the world and about a quarter of the world's undiscovered natural gas.
The Pentagon is undertaking an Analysis of Alternatives to review the DoD's future broadband communications requirements, a project expected to begin this fall. Those results could point to more efficient and less costly commercial SATCOM options that could serve the U.S.
They also could offer Canada insight into money- and time-saving options for bringing communications to an Arctic region that grows in importance with each passing spring thaw.