Introducing FlexMove – A New Era of Land Mobility Connectivity
June 05, 2020
A flexible and fully provisioned global managed service that removes the cost and complexity out of creating and managing a communications network
In a recent blog, we explored the limitations of legacy networks and the challenges that arise from attempts to satisfy the increasing data demands from land mobility end users. The challenges become especially pronounced for industrial users in the rail and mining industries and for first responders/humanitarian aid groups, all of whom operate in hostile or hard to reach locations for intermittent periods.
FlexMove is an industry-first service that supports two solutions:
Connected mobility enables communications-on-the move (COTM) with a satellite antenna for moving vehicles.
Portable connectivity provides communications-on-the-pause (COTP) for temporary use in a fixed location.
In combination with terrestrial mobile networks, SPs could enable a hybrid, network of networks to extend connectivity beyond the reach of traditional network footprints.
"FlexMove is the first-of-its-kind, high-throughput satellite land mobility service offering ubiquitous and affordable connectivity that enables users to operate with confidence – even in the most remote or challenging locations," said Intelsat Director for Land Mobile, Joel Schroeder. "Working closely with our solution providers, we can deploy our flexible service to support mission-critical communications and to help end customers maintain a seamless connection to the people and applications they rely on every day."
Global Coverage When and Where You Need It
FlexMove is designed for SPs that want to offer a fully provisioned global managed service to their end customers, without the cost and complexity associated with creating and managing their own network. The solution is ideal for SPs with a need to meet increasing data requirements driven by the demand for real-time transmission, operational efficiencies and enterprise continuity in the world's most remote locations.
Powered by the award-wining Intelsat Epic HTS network, FlexMove gives end users global, multi-layered, redundant coverage. This reliable, always-on, high-speed network design has high uptime and network availability, enabling even the most data-intensive applications to run the way they are intended, without having to throttle speeds.
For instance, a mining company using autonomous machinery in remote, off-grid locations can confidently rely on FlexMove to maintain continuous monitoring and live video streaming for security and situational awareness.
Pre-Configured, Easy-to-Use Terminals
How is this possible? FlexMove service packages come pre-configured with network specifications, allowing users to quickly bring a terminal online within minutes without the need for any prior in-depth technical training. Need to move operations to a new region? No problem. FlexMove is a global, high-speed connectivity solution that enables rapid and autonomous deployment.
Some of the terminal innovators we're working with include:
Kymeta: A flat panel, electronic steering COTM solution that affixes to a vehicle or other moving asset designed for high-speed mobilization.
SatCube: An off-the-shelf COTP solution that's lightweight, portable and battery-powered for both grab-and-go as well as stop-and-go use.
Starwin: A portable, all-in-one COTP solution that features an integrated antenna system, modem, router and power supply.
All terminals include an automatic or assisted pointing capability that allows the user to easily acquire and maintain connection with the FlexMove HTS network. Additional terminal options are being added to meet an even larger set of customer needs.
In a real-world scenario, humanitarian aid organizations responding to a disaster can have a FlexMove COTM or COTP solution up and running within minutes to support mission-critical operations.
Flexible Data Packages That Meet a Variety of Needs
FlexMove addresses a wide variety of user needs. An ideal alternative to L-band when running data-hungry applications, the service packages are designed for recurring, seasonal and occasional, event-based use. With the ability to pool airtime across multiple terminals, FlexMove is highly attractive for organizations operating a large fleet of terminals, allowing them to share their data investment.
With FlexMove, end users won't need to worry about the "use-it or lose-it" terms associated  with many bandwidth package offerings. Customers can purchase monthly, quarterly and annual data plans through their selected solution partner. An annual plan offers the most flexibility, allowing the data allowance to be used anytime, anywhere within a 12-month period. This enables end users to keep terminals on standby until they're needed, without paying for idle airtime. If the customer requires more than the base package, top-up bundles are available.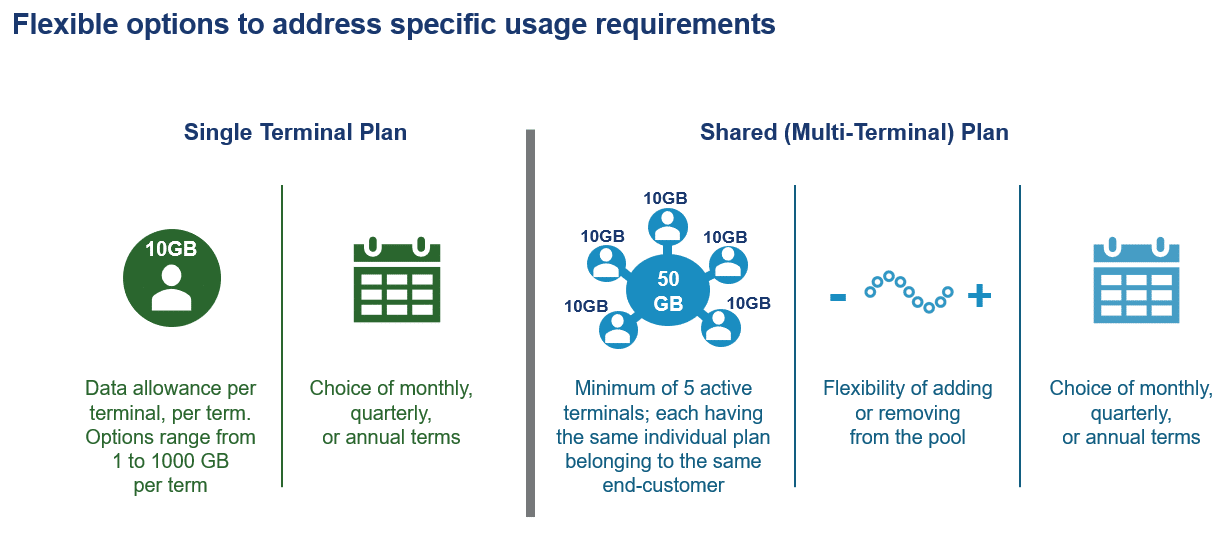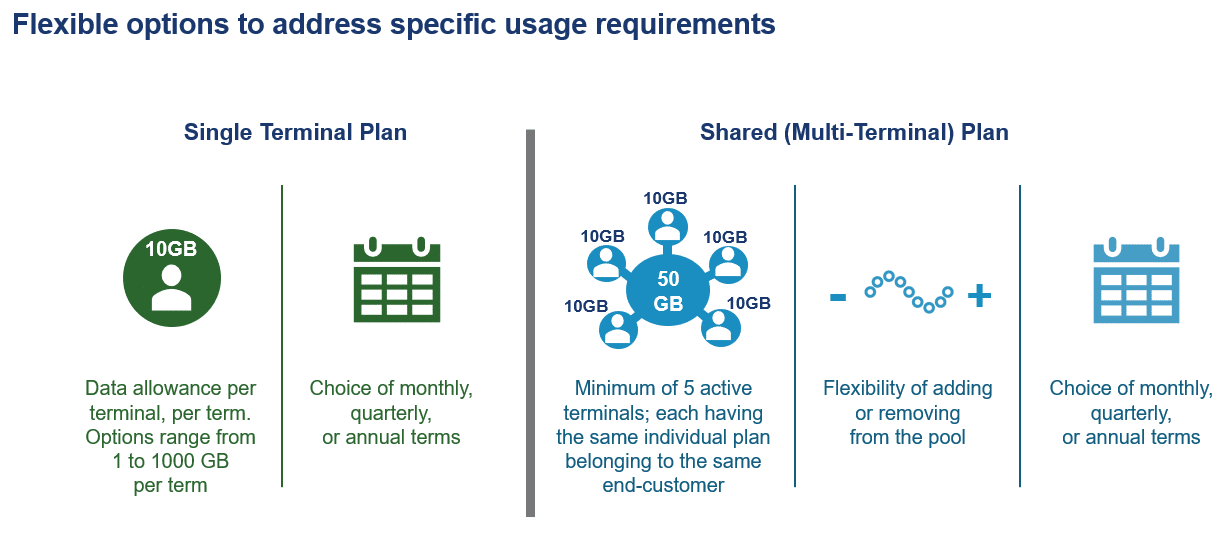 For example, a FlexMove annual service package can benefit first responders whose data requirements are typically less predictable, and event-based, varying from month to month, particularly when supporting unknown and unplanned disaster response efforts. FlexMove plans are cost-effective and dynamic enough to meet a wide range of land mobility needs.
Service Provisioning Done Right
FlexMove service delivery is made simple with the Intelsat Service Management Portal. This user-friendly terminal lifecycle tool enables FlexMove SPs to provision, configure and monitor network access in real time. SPs can track terminal performance and manage end-user terminal service plans on the fly. Partners also have the ability to set role-based parameters, including Fair Access Policies.
The benefits of FlexMove's global, always-on HTS network paired with easy-to-deploy terminals and flexible data packages will allow SPs to seamlessly overcome the limitations of traditional networks.
Check back again soon – in our next FlexMove blog, we'll dive into specific applications of FlexMove for first responders and humanitarian aid groups.
Want to learn more about FlexMove or ways to partner with us? Contact us today!
Service Delivery Done Right
Our easy-to-use Service Management Portal enables partners to provision services and monitor activity in real time. Establish connectivity in under one minute.