IntelsatOne FlexAir Coming This Summer for Government Aircraft Operations
July 09, 2018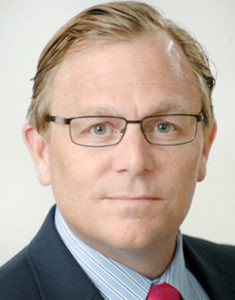 The technology we have brought to market with our new Intelsat EpicNG high-throughput satellites is changing the way we deliver capabilities and services to our government customers. Unlike wide-beam satellites, these new HTS platforms use power-concentrated spot beams to deliver signals reaching small mobility terminals and allowing users to leverage satellite connectivity at higher data rates than ever before possible.
This capability is driving the launch of a series of managed service offerings that will give our government customers a much wider range of mobility service models from which to choose. These models are designed to allow users to pick the service best suited to their specific mission with a payment model that is the most cost-effective.
The first of these offerings is called IntelsatOne FlexAir, a worldwide in-flight connectivity service designed for a range of aircraft with high-performance requirements. The service provides Ku-band coverage on a combination of our high-throughput Intelsat EpicNG satellites and our traditional wide-beam spacecraft. The service is compatible with multiple types of fuselage and tail-mounted antennas on both manned and unmanned aircraft.
IntelsatOne FlexAir will offer our government customers three different subscriptions packages:
FlexAir Global will offer both pay-as-you-go and monthly subscription plans at data rates of up to 10 Mbps to the aircraft and 3 Mbps from the airframe.
FlexAir ISR provides high throughput committed information rates in 1 Mbps increments up to 6 Mbps from the aircraft with the ability to roam to and from the FlexAir Global network.
FlexAir CIR will offer committed information rates with unlimited data allocation, a requirement for CEO's, heads of state and commanders
IntelsatOne FlexAir provides government customers with a number of advantages over other managed networks. Customers can use existing Ku-band terminals on aircraft already in service, just by adding a modem — much simpler, cheaper and faster than switching out an antenna. For new installations, users can choose from our pre-approved antennas.
Another advantage is that the Intelsat EpicNG satellites have up to 125 MHz on any given spot beam, whereas platforms such as Inmarsat's GX satellites are limited to 32 MHz per beam worldwide. This means that a customer can scale up when additional bandwidth is needed for a mission, with capacity coming from multiple beams and satellites covering the same area. The Intelsat system offers the highest degree of security, particularly on the Intelsat EpicNG platform which uses new technology to minimize interference. For more detail, here is a whitepaper we have prepared on security features of the Intelsat EpicNG constellation.
We will be rolling out the IntelsatOne FlexAir service later this summer through a number of certified resellers.
Future service offerings will include a Flex platform designed for military and other government operations on land and in littoral waters, as well as managed services to support forest firefighting and seasonal disaster recovery operations.
As the name implies, the IntelsatOne Flex platform will give users more flexibility in how they use the extensive capabilities of our high-throughput satellites combined with our widebeam satellites, while allowing customers to select the most cost-efficient payment model. We will keep you informed of other offerings as they become available over the coming months.