Intelsat General – Providing Defense in Depth for Space Communications
February 10, 2017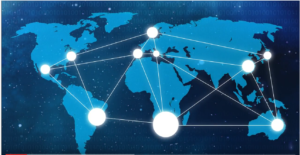 Cyber attacks are on the rise worldwide, and government networks are a constant target. The growing volume and sophistication of cyber attacks require more advanced space infrastructure to ensure the resiliency of satellite communications.
Intelsat General Corporation (IGC) takes a defense in depth approach to ensure the highest quality of service to government and DoD customers. By retaining complete, end-to-end control of both the space and terrestrial components of the global Intelsat network, IGC is able to detect, prevent and mitigate cyber threats.
The next-generation Intelsat EpicNG satellite platform is now operational with the second EpicNG spacecraft, IS-33e, becoming operational last month, delivering service to the Africa, Europe, Middle East and Asia regions. This high-throughput satellite network delivers dramatically higher bandwidth performance, and takes security to the next level through the use of digital payloads.
Spot beam technology, wider bandwidth beams and frequency notching provides an added layer of protection, and EpicNG is compatible with the Air Force's Protected Tactical Waveform (PTW), providing cost effective protection in multiple frequency bands.
Commercial SATCOM is a critical component for the U.S. Government's continued supremacy in space. It keeps DoD ahead of potential space adversaries, increases flexibility and resiliency for both military and civil agencies, and is the only way to innovate rapidly. Intelsat EpicNG is just the first step – IGC is already planning for future satellites that will be fully software-defined for ultimate flexibility and resiliency.
Please see below for the video.