Intelsat General Provides Connection for Education and Health Network in Rural Alaska
April 18, 2017
Intelsat General
The vast state of Alaska has fewer residents than tiny Delaware, and more than half of Alaskans live in rural areas or small villages hundreds of miles from modern hospitals. Because of the state's enormous size, harsh winters and often-impassable terrain, traveling for routine and even emergency medical care is difficult, if not impossible, for most rural residents. This has made Alaska a laboratory for telemedicine, in particular to serve the 140,000 Alaskan Natives and Native Americans spread across the state's half-million square miles.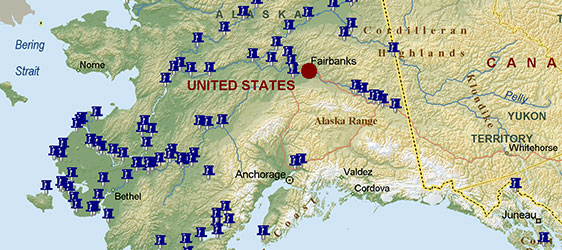 For over a decade, Josh Maki and his team have been traveling to remote areas from the DRS offices in Montana and Alaska, visiting over 30 villages to maintain and service the networks that connect rural health clinics and schools via satellite to facilities in Fairbanks and Anchorage. Maki, Director of the Domestic Solutions Division for DRS Technologies, said that DRS has installed more than 120 VSAT dishes at clinics, schools, and other rural locations in the state, each connected through Intelsat's Galaxy 18 satellite to the DRS hub in Fairbanks or directly to sites in Anchorage. All of these remote sites are monitored and controlled from the DRS Network Operations Center (NOC) in Polson, Mont., with backup services being provided by the company's NOC in Herndon, Va.
The Galaxy 18 satellite, at 123 degrees West, provides the majority of the Ku-band capacity to the DRS Alaskan network. The satellite primarily provides television service to North America, but is ideally positioned to provide coverage of Alaska. Maki said that in addition to video teleconferencing, the DRS network allows clinics and schools to make Voice over IP phone calls, saving them thousands of dollars a month in costly long distance charges. And the network supports emergency-response communications in the rural villages when floods or other natural disasters disrupt normal telephone communications.
In addition to telemedicine, the DRS network supports distance education and video conferencing that, for example, allows a teacher in Anchorage or Fairbanks to provide instruction that supplements the rural classroom experience of students in remote villages.
"Students in these rural districts often take several classes a day that are taught to them virtually from teachers in faraway locations, from kindergarten all the way through 12th grade," Maki said. "The video teleconferencing capabilities we provide allow schools to take virtual field trips to places like the Baseball Hall of Fame or other interesting locations such as zoos and aquariums that may be located in the lower 48. The satellite links have also provided students in isolated villages the ability to participate in district-wide holiday programs where parents and others are able to watch live via our communications network."
One group served by DRS is the Tanana Chiefs Conference (TCC), a non-profit organization of 37 tribes living in the Interior region of central Alaska, with Fairbanks being the closest city. The TCC's Health Services division operates 26 rural health clinics serving a native population of around 15,000.
Patients rarely see a medical doctor because none are available in their villages. Instead, a physician's assistant, a nurse or a trained community health aid staffs each clinic and sees all manner of medical problems, emergency and non-emergency.
However, through connections with DRS terminals and Intelsat's satellite, health workers at the clinics are able to connect "telemedicine carts" when examining a patient. Using the cart, a health care provider can send information, x-rays and even videos in real time about the patient's vital signs and symptoms to a medical doctor at the Chief Andrew Isaac Health Center in Fairbanks, an outpatient medical group practice operated by the TCC.
If the case is very serious, a specialist can be brought in virtually by satellite from the Alaska Native Medical Center in Anchorage, one of only two tertiary-level hospitals in the state. The cart provides the doctor on the other end enough information to make a diagnosis, advise a course of treatment or even order a medical evacuation to a hospital emergency room.
"The DRS Telemedicine network has made it possible for people to receive improved medical treatment in their villages, often times diagnosing minor problems before they become more serious," Maki said. "It has really advanced the health of the people it serves and DRS is very proud to work with TCC and Intelsat to build this network helping to solve these important challenges for rural Alaskans."