Intelsat and Harbor Research Find Security, Ease of Set-up and Bandwidth Requirements are Top Needs for End Users of Land Mobile Connectivity Services
May 14, 2021
Recent Survey of 350 Industry Professionals Reveals Remote Connectivity and Security Needs are Biggest Drives of Satellite Adoption
Staying connected no matter where you are or what you're doing is now a way of life. That doesn't change for businesses, first responders and other professionals who work in the field or on the road, and who need to stay connected anywhere their jobs take them.
Recent advancements in satellite connectivity are making it possible to use high-throughput satellite (HTS) connectivity in combination with terrestrial wireless services, creating a "network of networks" hybrid solution that can provide organizations with remote operations and on-the-move employees with easy-to-deploy communication options that can help quickly scale operations where and when they're needed most.
These advances couldn't be any more timely, as NSR predicts that demand for HTS capacity for land mobility is expected to reach 24 Gbps by 2028, up from less than 1 Gbps in 2017.
Intelsat recently surveyed nearly 350 professionals across global mining, oil & gas, rail, commercial goods and transport, and first-responder industries to learn more about the current operational connectivity challenges they face, and any roadblocks that may prevent the adoption of more effective hybrid space-terrestrial connectivity solutions.
Here are some of the insights we uncovered:
Network security, ease of set-up, and the ability to meet rising bandwidth requirements are the biggest networking needs:

56.3% of survey respondents consider network security to be within their top three most important networking needs, and 28.3% consider it to be their top need.
39.9% of survey respondents consider ease of network set-up and management to be within their top three most important networking needs; 13.1% consider it to be their top need.
40.8% of survey respondents consider the ability to meet rising bandwidth requirements to be within their top three most important networking needs; 10.7% consider it to be their top need.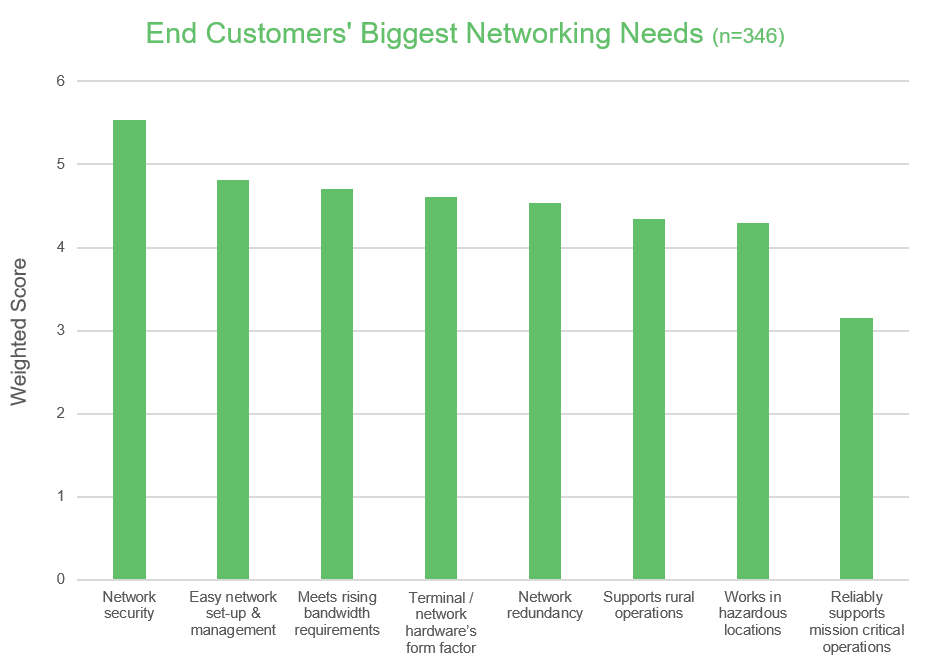 Remote connectivity (62.1% of respondents) and network security (58.4%) are end customers' biggest motivators for satellite adoption; hardware (56.6%) and bandwidth (54.0%) costs are the major inhibitors.
Almost half of all users (49.7%) currently leverage Wireless Wide Area Network (WWAN) connectivity to enable video security and streaming-related applications, and 46% leverage it to improve operational visibility; a significant number of users who aren't currently utilizing WWAN would like to.
End customers typically work with Systems Integrators or IT consultants (45.7%; 43.1%), Communications Service Providers, or CSPs (40.2%; 38.7%), and telecom Infrastructure companies (37.57%; 36.42%) to support their networking needs (i.e. procure, design, build and deploy).
While end customers generally want a choice of service plans (47.4% prefer subscription, 46.8% prefer wholesale and 29.8% prefer to pay per data usage), approximately 54% of end customers like to budget new technology and/or network connectivity purchases as a capital expense.
Overall, around 78% of end customers in Land Mobility markets surveyed are willing to pay a premium for a continuous, ubiquitous network connectivity solution.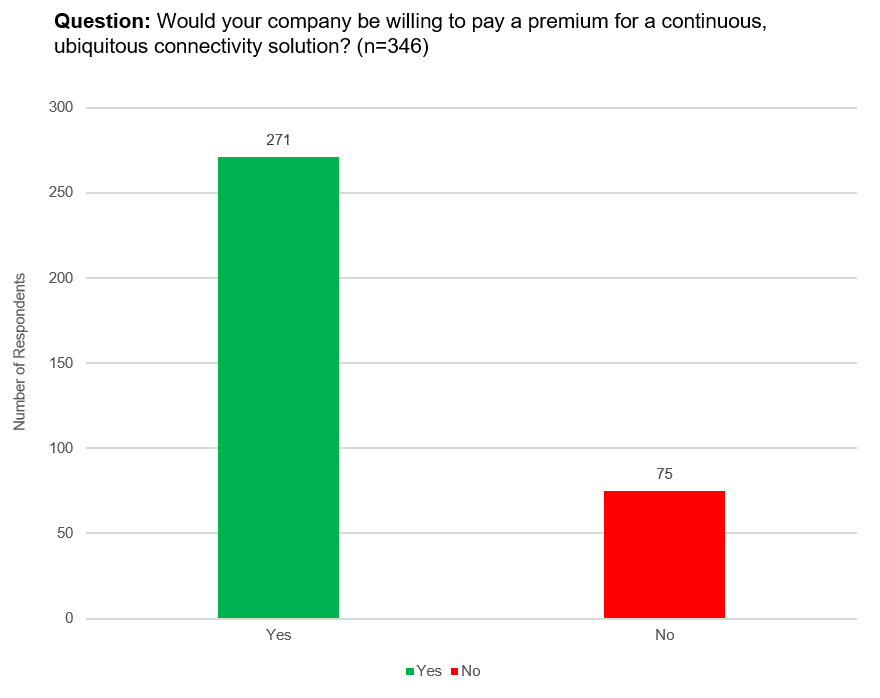 Intelsat FlexMove was designed to provide a flexible HTS connectivity solution that works in tandem with cellular and terrestrial broadband to keep remote workers, first responders and other mobile end users seamlessly connected. The end-terminal, fully managed service makes it easy and affordable to connect to the Internet, private data networks and cloud services from virtually anywhere in the world, including while on-the-move or on-the-pause at a temporary site.
Intelsat FlexMove service packages offer simple plans sold by the gigabyte (GB) and are paired with a portfolio of qualified, industry-leading terminals available through Intelsat's global network of solution partners. And, as the only commercial satellite operator with an independent third-party Service Organization Control 3 (SOC 3) cybersecurity accreditation, end-users can rest assured that Intelsat's space and ground network is secure.
For more on how Intelsat can make land mobile connectivity work for you, visit www.intelsat.com/solutions/land-mobility/ or contact us.