Intelsat 37e Successfully Launches, Bringing Enhanced HTS Coverage for Africa, Europe and the Americas
October 04, 2017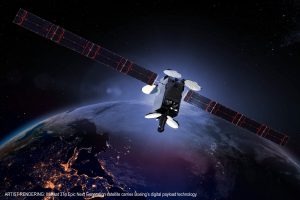 Intelsat S.A., parent company of Intelsat General Corporation, announced the successful launch of the Intelsat 37e satellite aboard an Ariane 5 launch vehicle from the Guiana Space Center in Kourou, French Guiana. Intelsat 37E will be placed into service at 342° East, delivering high-throughput satellite (HTS) service to Africa, Europe and the Americas.
It is the fifth and largest Intelsat EpicNG satellite to be placed into orbit and continues to expand the resilience and capabilities of the globe's first all-digital HTS platform. Some of the new features on this satellite include a unique power sharing technology as well as steerable beam capabilities to deliver optimized services for government customers.
The power sharing technology allows power on the satellite to be assigned between shaped, fixed and steerable spot beams at Ku-band augmenting flexibility within the payload to optimize connectivity and increase efficiency as requirements shift over time.
The Ku- and Ka-band steerable beams have been added to increase network access and support high demand areas for government mobility applications. They will complement the extensive Ku- multi spot beam coverage of the Intelsat system.
These steerable spot beams provide great flexibility for the government customer by offering the ability to do loopback in an area of operation or reach back via a gateway (core beam) or both simultaneously. The steerable spot can be connected to any of the non-steerable HTS spots on the satellite, allowing them to have loopback capacity in the steerable spot or connectivity to any of the other HTS spots on the satellite. This allows for enhanced agility in managing their bandwidth and requirements. For example, you can have 25% of your bandwidth dedicated to loopback operations, 25% connected to other beam(s) and the other 50% connected to an Intelsat Core Beam, or their own gateway.
The all-digital Intelsat 37e is the first HTS satellite to offer full beam interconnectivity between C-, Ku- and Ka-bands. As Skot Butler stated in a recent interview with Aviation Week:
"You can just pick two beams anywhere on the footprint of the satellite and say, 'I want to go from here to here,'" Butler notes. "That's true regardless of whether it's in Ku-, Ka- or C-bands."
By incorporating the most advanced digital payload commercially available, Intelsat EpicNG satellites enable significant advances in throughput per MHz using antennas as small as 12 inches. For example, special operations planners use very small UAVs, known as Class III, for tactical ISR. These UAVs add great flexibility to missions by not requiring a runway, being retrievable via a net or rope. The antennas on such UAVs need to be very small. Before HTS, satellite communications performance on these UAVs was severely restricted.
In addition, Intelsat 37e improves the resiliency of the IntelsatOne Flex managed platform, bringing additional throughput to support government applications in the Americas, Africa and Europe. HTS is very conducive for a move to a more managed services model as government customers face accelerating bandwidth demands.
Commercial customers such as Speedcast, Omni-Access, Algeria Telecom and TIM Brazil will be among the first to deploy services on Intelsat 37e. IGC will help government customers also move quickly to leverage these new performance levels and services.
Intelsat continues to build out a proven, next-generation fleet of satellites second to none. We'll continue to work with our government customers to ensure they are leveraging all of the new capabilities and services offered by new, innovative commercial technology such as the Intelsat EpicNG platform.