Industry Wants to Ensure the Warfighter Is Always Supported
May 03, 2016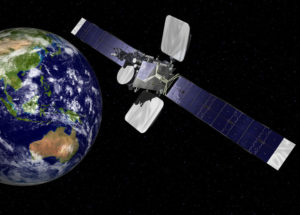 On April 12th in a darkened room at Peterson Air Force Base, Colo., Gen. John Hyten prefaced his talk to the 32nd Space Symposium with a short, stark video. Its theme: This is how much the warfighter depends on U.S. assets in space.
The conclusion: What if our soldiers couldn't depend on the ISR superiority they have come to expect?
"We have been given the greatest gift by the American people – their sons and daughters," said Hyten, who heads U.S. Space Command. "Our job is to make sure they are never alone on the battlefield."
Unsaid was that about 80 percent of the ISR data protecting those warfighters is carried by a commercial communications satellite, relaying pictures of enemies over the hill, bringing signals from higher command, ensuring the mission and enhancing safety.
When Hyten went on to outline a Space Enterprise Vision (SEV) to cope with adversaries' attempts at disruption, it was apparent that including commercial elements is a key piece of maintaining ISR supremacy.
The SEV is a product of several studies, including one in 2015 that concluded that the U.S. military's satellites were not resilient enough to guarantee their capability in a contested environment.
"Most U.S. military space systems were not designed with threats in mind and were built for long-term functionality and efficiency, with systems operating for decades in some cases," Hyten said. "Without the need to factor in threats, longevity and cost were the critical factors to design, and these factors were applied in a mission stovepipe. This is no longer an adequate methodology to equip space forces."
Since those systems were designed and launched, industry has sent its own satellites aloft with the understanding that space is growing more contested. Intelsat's EpicNG platform, the first of which was launched on January 27, were designed for a contested space environment.
Industry is taking advantage of its ability to adapt quickly to changing conditions by developing technology on a shrinking timeline. It's something the SEV can take advantage of as it evolves. The military can also use such capabilities as hosted payloads and other advanced technologies to expedite its effort toward continued ISR dominance.
In a later speech at the Space Symposium, Adm. Cecil D. Haney, who runs U.S. Strategic Command, acknowledged the role of commercial SATCOM in the U.S. military's future when he said, "We must have an approach that includes collaboration and partnership with our interagency, as well as our allies, partners and commercial entities."
Hyten indicated that he understood.
"The future space enterprise will be built by changing how we architect, develop, acquire and operate our space systems," he told the Space Symposium. "Going forward, we will rigorously focus on a clear definition of warfighter requirements with programs acquired using greater horizontal integration across the space enterprise. We also move toward shorter program life cycles and decreased time between constellation updates, which improves the ability of new technology on-orbit."
It's what industry has been steadily moving toward. It wants to be included in the SEV. The Air Force's upcoming Analysis of Alternatives (AoA) for wideband satellite communications will likely be a look towards such a future in space.
"(It) will determine whether the service continues to launch and fly its own dedicated wideband satellite fleet, or it turns to commercial companies to provide communications capacity for the majority of its SATCOM needs, or something in between," said Intelsat General President Skot Butler. "IGC expects to be part of a broad industry engagement to support the DoD in this AoA, so that our individual and collective capabilities can be designed into the Space Enterprise Vision.
"Via this process, the DoD will be able to clearly see how the satellite technology being developed by Intelsat and other commercial companies can best support the U.S. military mission."
Reduced to its basics, that mission is, as Hyten said, "… to make sure they are never alone on the battlefield."