Improving Space Resiliency with Commercial Satellites
June 18, 2018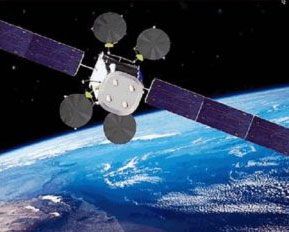 Leaders of government and military agencies increasingly acknowledge that space is a contested domain with operations requiring a greater need for resiliency. In order for the United States to maintain its leadership in space, satellites and communications networks must be able to withstand attacks and, if and when they occur, be able to recover quickly. Fortunately, the resiliency needed to maintain American superiority in space is available now from commercial satellite providers.
"Because of their shorter development cycles, commercial companies have been able to get new capabilities to space more quickly than the Defense Department. These include constellations of high-throughput satellites (HTS) operated by Intelsat and others that deliver higher data rates, increased flexibility, greater security and better cost efficiencies for a wide variety of government and military applications," writes Rory Welch, Vice President of Engineering and Service Delivery in Aviation Week & Space Technology.
Case in point: Intelsat's EpicNG Ku-band HTS platforms have played a key role in facilitating the adoption of new types of unmanned aircraft systems (UAS) for intelligence, surveillance and reconnaissance (ISR) missions.
"Because of their higher power, these advanced satellite platforms can be used with much smaller aero antennas in support of government UAS intelligence, surveillance and reconnaissance missions. Our own recent tests showed how an Intelsat EpicNG satellite link using a 6-in.2 flat-panel antenna transmitted two times as much data and was three times more efficient that traditional wide-beam satellites, as measured by bits per hertz of bandwidth," Welch wrote.
Ku-band HTS systems have the added advantage of being less susceptible to rain and other atmospheric effects than Ka-band systems. This is particularly important for operations in the tropical areas of Asia and Africa where the U.S. military is engaged.
Additionally, many UAS platforms have Ku-band terminals, and are therefore not compatible with the U.S. government's Wideband Global Satcom (WGS) Ka-band satellites. Using Ka-band for UAS operations would require a costly upgrade on the fleet of unmanned aircraft, while using commercial HTS platforms on a global scale can be done with a simple software upgrade.
Commercial satcom capabilities are continually advancing out of necessity. The commercial satellite market is also contested, and to remain competitive, providers like Intelsat must respond to market pressure for resiliency. "[N]etwork security is also of paramount importance to commercial users of global satellite networks because they cannot risk banking data, television broadcasts or any other satellite signal being hacked or corrupted by illegal infiltrators," Welch explains.
At Intelsat, we continuously adapt our countermeasures to mitigate the latest threats. In addition, our network security is audited annually by independent third parties, and we meet the Pentagon's most stringent security standards to maintain confidentiality, availability and integrity. The Intelsat EpicNG platform's digital payload provides further security enhancements as explained in this video.
It's a good sign that the U.S. government recognizes the need for resiliency in space. But that is only the first step to maintaining our global leadership. The next step will be to expand its use of commercial satcom from providers like Intelsat.