IGC Team Will Continue on the Same Path
May 05, 2016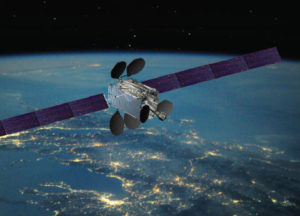 It's an exciting time to become President of Intelsat General Corp. – a time of challenges and opportunities, and a time that includes a great new asset to help meet both: the high-throughput Intelsat EpicNG constellation of satellites.
The most important aspects of the job do not change, no matter who occupies the seat. We want to continue to lead the commercial satellite industry in bringing value to our government customers. Our mission is to help them understand how to make better use of our satellites and investment. My job is to continue to act upon priorities established by our leadership team in 2015 and reaffirmed earlier this year.
Three of those priorities are:
Providing customers with the best suite of secure and advanced solutions available for satellite communication in the air and on land and sea.
Showing government stakeholders – and particularly the Air Force — how Intelsat experts can offer value by operating government flight and ground systems. Notable among them: Wideband Global SATCOM (WGS) and the Air Force Satellite Control Network.
Helping the U.S. maintain space superiority by participating in developing a more resilient wideband space architecture.
Intelsat satellites once operated in a space environment that was both tranquil and peaceful. We continue to operate in an environment that the military tells us is fast losing its peace and tranquility. The first Intelsat EpicNG satellite, IS-29e, launched in January, and IS-33e is scheduled to join it in space in August. The fleet is designed with resiliency in mind, and with the ability to handle growing data from increasingly capable mobile communications sensors – with their increasing bandwidth needs.
By incorporating the most advanced digital payload commercially available, Intelsat EpicNG satellites can enable significant advances in throughput per MHz using antennas as small as 12 inches. The payload also offers the anti-jam and security features our commercial and government customers want, as well as spot beams that limit the potential jamming area.
The Air Force participated in IGC and L-3 Communications tests that validated the protected tactical waveform (PTW) modem performance over existing satellites. Tests on Intelsat EpicNG are planned.
Customers want to test the satellite, too. They want to know its capability in handling various antenna sizes, especially those used by remotely piloted aircraft. We want to help with those tests, as do two partners: flat-panel antenna developers Kymeta and Phasor.
The Air Force has signaled its intent to take a two-phased approach to opening flight and ground operations of its wideband WGS satellites to commercial control. The first involves replacing military personnel with civilians in operating the satellite control center at Schriever Air Force Base. We expect the second phase will include a contract with a company to operate the WGS constellation in orbit from commercial teleports. A draft request for the second phase is expected this summer.
Finally – and extremely importantly – is an upcoming Air Force Analysis of Alternatives that we expect will signal how the military will proceed in filling its wideband communications needs. Will government go it alone with its own fleet, an expensive course? Or will it include the capacity and capability of commercial SATCOM in its plans? And, if so, will it include industry in plans for a Space Enterprise Vision, a project announced to great enthusiasm by Gen. John Hyten, who heads U.S. Space Command, on April 12 at the 32nd Space Symposium?
Intelsat General is already planning for an exciting future of challenges and opportunities. I am just as excited about the opportunity of leading the company into that future.