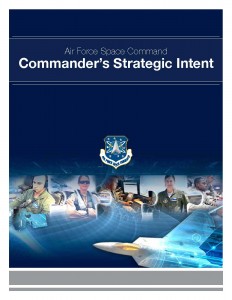 While Gen. John Hyten's "
Commander's Strategic Intent
" is meant to offer a roadmap of the future for the 22,000 airmen and 9,000 civilians of Air Force Space Command, that's hardly its limit. The General's priorities:  "Win today's fight",  "Prepare for tomorrow's fight," along with "taking care of our Airmen and our Families" are definitely applicable to other parts of the Air Force and other Services within the Department of Defense. Those team members include industry partners, whose expertise is needed to create "Resiliency Capacity … our new metric to measure the ability to respond effectively to adversary intent and actions – to deliver combat effects in a contested environment," Hyten added. Industry expertise also is needed to help Space Command in its "Third Offset" quest to maintain and extend technological superiority over potential adversaries that are pouring resources into battlespace technology as never before. And, Hyten added, that battlespace is no longer limited to land, sea and air. It includes cyberspace and a 73 trillion-cubic-mile area bounded by geosynchronous orbit, 22,300 miles above the earth. It's an area in which decisions must be made on actions being conducted at 17,500 mph. And it's an area in which industry has vast experience, but one which is becoming crowded and contested, as the Air Force often says. The military and industry have much at stake in the newly defined battlespace, with satellites of both driving the ability to fight in both traditional and non-traditional areas of operation. Without Global Positioning Satellites, military and civilian navigation is hamstrung. Without commercial communications satellites, worldwide commerce grinds to a halt and the military fights a World War II-type battle, as Hyten said in an interview with "60 Minutes" last year. Space, once considered benign other than the harshness of the domain, is a contested environment now.  Coping requires martialing U.S. resources, both military and commercial. It requires planning and building architecture for the future, with both partners involved at the front end of the planning process. It also requires clear communication of needs to allow industry to plan and invest to do its part in meeting military goals. Better communication with industry should enhance competition by providing clear direction toward potential rewards. Indeed, Hyten's intent encourages innovation and competition "to improve buying power." It discourages "all-or-nothing, winner-take-all" acquisition strategies to reduce risk in bidding. The intent encourages cost as a criterion, but at the same time warns that cost alone should not drive "Warfighter Essential Requirements." When soldiers' lives are at stake,
Lowest Cost, Technically Acceptable (LPTA)
purchasing need not apply. Hyten also is particularly attuned to speed and ability in reacting to threats. This, too, is an area in which commercial space can play a role, providing resources to deal with both anticipated and unanticipated issues. Such capabilities as Intelsat's high-throughput Epic
NG
constellation offer communications with anti-jamming capability. Airmen must be educated and trained differently to react to surprise. Space Command's stated intent to involve industry in military satellite operations is the answer to finding time for airmen to train to fight by removing them from some of the more mundane, day-to-day tasks best left to industry. Speed is a key to exploiting advantages the U.S. has in space technology, and expanding those advantages in an era in which other nations are trying to cut into that lead. It's every bit of a space race as that during the Cold War. By winning the race, "we will retain the asymmetric advantage our Joint Forces and Nation expect of us," Hyten writes. "We must be successful." To do so, the U.S. must recognize and use all of its resources — military and commercial. That's the essence of the team approach Hyten is espousing in his Commander's Strategic Intent. And we applaud him for doing so.
Related Posts