How the DoD Can Get Ahead of the High-Throughput Satellite Curve
August 30, 2016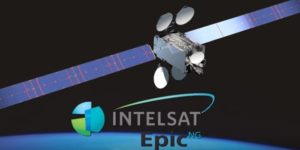 The commercial industry's new High-Throughput Satellites (HTS) present economic and resilient solutions to a U.S. Government increasingly in need of them. Companies already flying these next-generation platforms should have an advantage, according to Skot Butler, Intelsat General Corp. president.
"You really have to be in orbit and operational before the government starts signing up," Butler said in "Defense Eyes Lower Risk High Throughput Future," an article in the September edition of Via Satellite magazine. "We have started to do the first government tests and demonstrations, and the response has been very, very positive in terms of the high throughput they've received on the users' terminals."
The tests have been conducted on the Intelsat IS-29e, the first of the Intelsat EpicNG family of satellites, launched on January 27 and operational in April. The second, IS-33e,was launched this week and will offer coverage in Africa, Europe and Asia. Three more EpicNG satellites are due in 2017.
The satellites feature an open architecture system, which allows customers to use any terminals or modems, existing or new.
"The government has spent significant money on Ku-band terminals worldwide," Butler said. "Even outside of SATCOM, they are not particularly interested in being locked into proprietary systems."
The Via Satellite article suggests a potential migration toward HTS satellites in the wake of an upcoming DoD Analysis of Alternatives for wideband communications, and the FY2019 launch of the final satellite of the Wideband Global SATCOM (WGS) constellation.
"The government should, and likely will, hold SATCOM providers to a higher standard of resiliency with the increasing concerns over a contested space environment," said Earl White, a former Air Force senior executive and intelligence advisor.
Commercial providers have been anticipating just that. Intelsat EpicNG was designed with enhanced anti-jamming and interference-mitigation capabilities, as well as protected tactical waveform compatibility. EpicNG is hardened satellite technology that the government wants, available from Intelsat today.
Why is the government so interested in HTS? According to Butler, there are two main drivers: spot-beam architecture to support higher data rates on smaller terminals, and managed services.
"They've been talking for years about how they would like to eventually move to a more managed services model, where the provider is managing the network for them," Butler said. "That is very conducive to HTS. We expect to see a lot of growth for HTS and managed services from the government, but they will have to learn how to write their requirements a little differently in a spot-beam vs. wide-beam architecture."
A government move to greater commercial HTS would require planning how government and commercial capabilities could fit together as a major part of the acquisition process. An Air Force and Defense Information Systems Agency Pathfinder program to test acquisition models, the first of a scheduled five, yielded data showing long-term leasing of commercial SATCOM "saved (DoD) approximately 40 percent vs. annual spot leasing," according to Gen. John Hyten, who heads Air Force Space Command.
Long-term leasing has long been a quest of commercial satellite operators as a means of  delivering better economy to government agencies, and allowing for better long-term planning. It's going to become particularly important with the increased proliferation of Remotely Piloted Aircraft, whose smaller antennas make them ideal for HTS, Butler said.
The RPAs showed their value in wars in Afghanistan and Iraq, and that value is increasing with advancing capability and greater demand prodded by a wider range of operations, including a stronger DoD emphasis on the Pacific. They are going to require great amounts of the higher performance bandwidth available with HTS.
"We expect this to lead to a mature strategy in five years that will merge these activities with existing programs into a coherent and holistic process, taking advantage of commercially available products and services to the maximum extent practical," Hyten said.
We say Amen to that!