How Can Space Support the Fourth Industrial Revolution?
April 12, 2017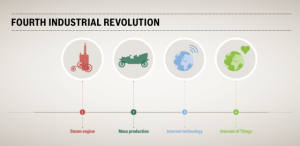 There is a massive technological transformation going on around the world today. The distinguishing characteristic of this transformation is the accelerating speed and scope of the IT platforms and systems that support modern society. Many are calling this the fourth industrial revolution.
The first industrial revolution occurred when the power of water and steam were first harnessed. Then came electricity and the rise of mass production. Most recently, there have been tremendous strides in electronics and processing speed, often described in shorthand as "Moore's Law."
This exponential growth has now ushered in the fourth industrial revolution, exemplified by new technology such as artificial intelligence and machine learning, bio-technology and the emerging Internet of Things. These new technologies are distinct, but they all depend on ubiquitous and increasingly fast connectivity.
Space is stepping up to the connectivity challenge posed by the fourth industrial revolution. One of the driving forces of this change has been the introduction of next-generation high-throughput satellite (HTS) systems, such as Intelsat's EpicNG. HTS will enhance the end user experience much like the terrestrial move from dial-up to broadband access.
These HTS satellites provide far more throughput than existing wideband satellites, with increases in throughput of up to 400 percent. Intelsat EpicNG incorporates multiple smaller spot-beams with high frequency re-use.  Performance on an EpicNG satellite is improved not only in bits per second per Hertz, but also in the aggregate MHz available and the geographic area covered. EpicNG complements Intelsat's existing global widebeam coverage areas, providing satellite bandwidth anywhere on the globe.
Intelsat has taken other steps as well to bridge persistent digital divides that hamper the fourth industrial revolution in certain parts of the world. The proposed merger with OneWeb promises to create a space industry leader in both geosynchronous earth orbit (GEO) and low earth orbit (LEO). By merging OneWeb's LEO satellite constellation and innovative technology with Intelsat's global scale, terrestrial infrastructure and GEO satellite network, the new company will create advanced solutions that address the need for ubiquitous broadband. When operational in the next few years, the combined fleet will offer a truly global and newly affordable networking solution for mobile and fixed customers.
These increases in performance and flexibility give rise to innovative new services and business models as well. Customers can now purchase "SATCOM as a Service," as opposed to simple bandwidth. IntelsatOne Flex is a new managed service that gives customers the flexibility to respond to surges in demand and shifts in geographic coverage under a predictable cost structure. The digital payload design of Intelsat EpicNG will soon allow for software-defined payloads that enable over the air firmware and software updates, ensuring that the technology and performance levels are always cutting edge.
Governments are looking to take advantage of these innovations through procurement reform. By doing so they can ensure the latest capabilities get deployed into space and at the same time "future-proof" those capabilities to the greatest extent possible. Leveraging commercial innovation and capacity where appropriate is the best way for governments to test, evolve and deploy new technologies, moving much faster from prototypes to operational systems.
Governments, national economies and individuals all depend on satellite technology. With the requirements of the latest industrial revolution increasing the pace of technological innovation, the future of space is very bright. And IGC is excited to bring the benefits of that innovation to its customers.