Hosted Payloads Offers Remedy for Looming Air Force Weather Forecasting Gap
October 20, 2016
The importance of accurate weather forecasting to the Air Force can't be overstated. "Weather can be our greatest ally or our strongest adversary," the service says in a pitch to recruit weather officers.
History provides evidence of both points. A sandstorm forecasted five days in advance prompted a change of plans that aided the successful U.S. attack on Baghdad in 2003. Conversely, a surprise sandstorm contributed to the collision of a transport plane and a helicopter in the unsuccessful attempt to rescue U.S. hostages in Iraq in 1980.
Why then is the Air Force aborting its pitch to the satellite industry to cope with looming gaps in collecting high-priority weather data? And why is the service turning to an international partnership to gather data when industry offers a solution: hosted payloads?
With an aging constellation of weather satellites, and with the loss of Defense Meteorological Satellite Program Flight 19 (DMSP 19) in February, only two years into its five-year designed life, the Air Force issued a Broad Agency Announcement on April 3, asking for help from the satellite industry, according to an April 9 article in Space News. The article said the Air Force sought solutions to problems anticipated in cloud characterization, needed in long-range operations, and theater weather imagery, used in forecasting and battlespace awareness.
Options were expected to include new weather satellites, international partnerships or buying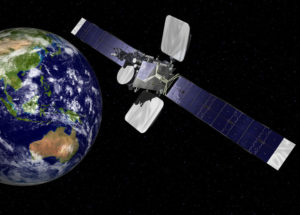 commercial weather data. Solutions were to be implemented by 2019. Deadlines were set for late summer and fall, with contracts to be awarded in December.
But four months later, in answer to concern about the future of forecasting capability, the Air Force sent Congress a long-term weather satellite strategy that relies on international partnerships and data from new satellites from Europe, India and Korea, according to an August 29 Space News article.
The missive to Congress outlined a plan using 23 satellite programs over the next decade to meet 12 of the Air Force's most pressing weather forecasting gaps. The plan also calls for a new Air Force weather satellite program that begins in 2022 with replacement satellite launching every five years.
Apparently the reason for the about face, according to Winston Beauchamp, deputy undersecretary of the Air Force for space, was that "we have a very robust capability internationally, and weather data is one of the less sensitive missions when it comes to sharing."
Lost in the shuffle was an opportunity to use weather forecasting capability to change the way the Air Force conducts its space business. With hosted payloads, the service could own a weather apparatus it can control and depend on, as it has for decades. Using hosted payloads would disaggregate satellite capability, answering a need for resilience measures that is a part of every satellite discussion these days. The Air Force also could use existing infrastructure and have more launch flexibility – both leading to more timely implementation.
All of those things can be accomplished with less expense than this latest plan to use non-U.S. satellites, an important consideration in increasingly austere times.
The Air Force might well consider a decision four years ago by the Australian Defence Force, which chose to buy ultra high-frequency (UHF) communications capability aboard Intelsat 22, which launched in 2012.
The military has talked about hosted payloads for some years now, but has done little to support the idea, claiming issues such as an established defense architecture in programs of record and a lack of integration in concepts of operations (CONOPS). Addressing the upcoming Air Force weather forecasting gap is a chance to open a new road to space operations, one that can pay rich dividends in the future while solving a problem that needs to be addressed now.