Honoring our Veterans – Scott Tatum
November 14, 2019
On November 11th, we all took a moment to reflect and honor the millions of brave men and women who have selflessly served in the United States Armed Forces.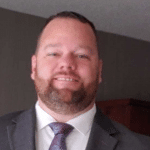 We'd like to express our deep gratitude and sincere appreciation for the brave and selfless sacrifices that these men and women in uniform—and their families–have made to protect our freedom.
At Intelsat, we are lucky to have many retired veterans within our workforce who are actively working with our government customers to support their communications needs around the world.
This month, we are going to highlight the service of some of Intelsat's veterans and how they continue to serve in their current roles within and outside our company.
Our first Q&A is with Scott Tatum, Senior Sales Director at Intelsat General.
Q: What led you to pursue a career in the U.S. Armed Forces?
I have always felt the need to serve. My family has always served. My grandfather was in the Army Air Corp during World War II and my father served in Korea. So it has always been a part of my life.
Q: Can you please describe the type and length of your service to the country?
I spent just over six years Active Duty in the Marine Corps, which included three combat deployments, including Operations Iraqi Freedom 1 & 2 and Operation Enduring Freedom. While in places like Fallujah and Ramadi in Iraq, I never realized that I would be watching video clips of my unit on the history channel with my own children years later.
Q: After you retired, what led you to a career in SATCOM?
During the last few deployments, I worked in many aspects of the communications field and found the variable nature and flexibility of Satellite Communications interesting. I used my GI Bill to finish my Engineering degree and leveraged my field experience to work as a contractor supporting the military bringing in smaller, lighter and more reliable VSAT systems.
Satellite terminals are the swiss army knife of communications. Satellite did it all, whether it was distribution of Unmanned Aerial Vehicle (UAV) footage to intelligence units and commanders in the field or providing secure telephone and email to the general and his staff on the go and on a moment's notice. VSAT terminals quickly became the backbone infrastructure for logistics programs, video, voice and even allowed Marines and Soldiers the ability to call home during Christmas. I was amazed that within 15 minutes of a transit case sliding out of a truck or helicopter there was instant access to the rest of the battlefield and the world beyond, regardless of distance or terrain.
Q: How does your current role support active members in the military? Other government users?
My current role in sales allows me to share lessons learned over the years of supporting units around the globe. And as a former user I never lose sight of how decisions made along the way impact users in the field. Satellite Communications provides instant access to information. No other technology can provide this type of situational awareness without a large complex infrastructure already in place. Instant access to meaningful information improves every aspect of decision-making. I get a great sense of satisfaction knowing that I can contribute to the success of our Government customers.
Q: As a Veteran, what does Veterans Day mean to you?
Veterans Day was founded at the end of World War I to honor the dough boys that sacrificed so much. For me it's a reminder to never forget those who have gone before. Because of the sacrifices they made I have the opportunities before me today.
Q: How can we better support veterans once they retire from service?
Veterans bring a host of skills and experiences that are difficult to translate into civilian roles. One is a desire to be part of something and feel needed. It can be isolating when you first transition. Everyone should try and bring veterans into the fold. Ask them to help with sports, clubs and programs that can make use of things they have learned.
As Scott mentions, it's not easy for veterans to find the camaraderie and shared sense of purpose once they leave the service. We're proud that many of them have found that here at Intelsat, and we're a stronger company because of the contributions they make every day.
Stay tuned as we bring you more veteran stories and how they found more than just a job at Intelsat. These veterans have found a place where they can continue defending our country and serving the warfighter.