Happy Thanksgiving from SatCom Frontier and Intelsat General
November 22, 2017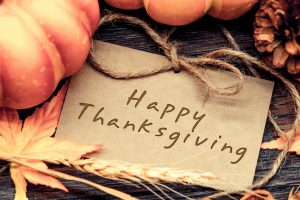 The holiday season is once again in full swing, and a year of progress and partnerships will soon be in the history books. As we all pause for our Thanksgiving holidays, the SatCom Frontier editorial team and everyone at IGC would like to wish our readers the happiest of holidays. We hope your day is filled with peace, family and fun.
We'd also like to give thanks to those whose service makes our freedoms possible. To the dedicated members of America's military, we send our thanksgivings to you for your sacrifice. Many will spend this holiday apart from friends, family and loved ones. We hope that at times like these satellite communications make it a bit easier to stay in touch with the home front.
SATCOM Frontier will be back next week with more new stories.
Have a happy Thanksgiving!